Restaurant Review - Zizzi's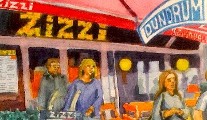 Tuesday 31 May 2016
Is the ultimate power trip for a Maitre d' in denying you the table you desire? Over the years, I've been put by the toilet or kitchen door many times with the ensuing traffic of 'urgent' diners or frazzled wait persons. As for the prized window seat – "you'd have to book that three months in advance", I was told smugly in one place. However, what really drives me crazy is when, with other tables available, they plonk you right beside other diners, ensuring nobody can have a private conversation.
And so it was as we arrived 
into Zizzi's at Dundrum Town Centre, the latest UK pasta pizza restaurant chain to hit our shores. With 143 branches, Zizzi's is owned by the Azzurri Group, who also own the Coco di Mama and ASK Italian chains. It had only just opened and we were in for 'Linner' because, having spent ages trying to get through on the phone, we could only get a table at 5.15pm. The place was jointed, but a corner table at the end of the banquette, to the right of the wide open kitchen, two empty tables away from the next diners, looked good. However, he who was seating us tried gamely to put us shoulder to shoulder with the other diners. "I normally stand there", he said, indicating the space in front of the requested table. "So, do you not 'let' that table all night?", I finally asked. He relented.
Formerly a Mexican eatery,
on a strip of casual eateries including Nando's, The Counter, and Jamie's Italian, which would be its biggest rival, the decor is cool urban rustic, dominated by a striking wall mural of birds and leaves by artist, Fuchsia Macaree, overlooking two cage-like section breakers. A people-pleaser menu, with prices ranging broadly from €5.95 – €17.95, had all the stalwarts
– calamari, arancini, risotto, pasta, antipasti boards, pizzas – classic, rustica, skinny, a brace of skewered dishes, plus short ribs or chicken wrapped in prosciutto.
A quintet of butterflied king prawns (€9.75), pan fried in smoky capia pepper with garlic butter and white wine, were on watercress with two 'Little Soul' soft doughy bread balls.
The dish looked dry and dark
but the prawns were tasty. The Zizzi Antipasti (€8.50) proffered prosciutto, speck, coppa, finocchina (which they were out of), buffalo mozzarella, balsamic tomatoes and olives. Served on a long narrow board, two more big bread balls filled half the space, so I wasn't going to suffer a protein overload with this dish.
Moving on, Paul thoroughly enjoyed his long rectangular rustica pizza picante (€16.25), attractively embellished with blobs of spicy nduja sausage, mozzarella, salami, pepperoni, roquito chillies, mushrooms, rocket and mascarpone. Again, I didn't fare as well with my Fritto Misto (€17.25), it being far too frittoed! With a little miserable section of lemon and an equally miserable looking little bowl of mayo, it lacked all the airy lightness of what should be the Italian flash-fried favourite of
so many Italophiles. Searching among calamari rings, I found the embers of a couple of prawns that a few sprinkles of chopped chilli weren't going to revive, but at least I was enjoying a tiny little side order of plain spaghetti – ridiculously priced at (€7.95).
Paul's white chocolate cheesecake (€6.75) bore no resemblance to the fulsome menu picture. With all the joy of a fallen souffle, it was dense and claggy.
Our server was delightful and, with a lovely Sicilian Mandrarosa Viognier 2014 (€23.35), bottled water (€5.45) and optional service, our bill came to €105.
Dough makes dough...it can sure rise up.
Zizzi,

3 Pembroke District,
Dundrum Town Centre,
Dublin 16.

Tel: (01) 296-2962
zizzi.co.uk
lucindaosullivan.com
FIRST PUBLISHED IN THE SUNDAY INDEPENDENT.