Restaurant Review - Forest & Marcy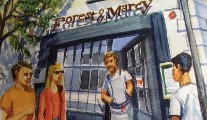 Tuesday 07 June 2016
It's not very often 
I'm sitting outside a restaurant waiting for its doors to open, but the arrival of Forest & Marcy, being the little sister of John and Sandy Wyer's hip Forest Avenue, in conjunction with chef Ciaran Sweeney, was causing a frisson amongst the chattering culinary classes. The fact that they weren't taking bookings, only walk-ins, was a bit of a pain – fine for Mickey D's I thought, but would I, if not on the job, just take the chance of driving a distance on the off-chance...
Secondly, when we did get in to the holy of holies, we were told
 we couldn't sit at two of the tables as they were holding them! The seating style generally is one long diner style bar counter – albeit a very cool counter – otherwise the three tables available are raised butcher's block style with tan leather stools. Eventually we were let sit at one of the desired tables – provided we were gone by 8pm. However, after a while we began to wonder if the no reservation policy had worked, because we were toute seule for almost two hours before a few people began to trickle in.
Finally ensconced, our next shock was the wine list – I'll get
 all our grumps out of the way 
now. We were shocked that the cheapest bottle of white wine 
was €36 (more expensive than 
big sister), making this a very exclusive little "wine room and kitchen", and so we went by the glass. Having got these gripes off my chest, Ciaran Sweeney's food is quite exquisite and, on this side of things, the prices were excellent. The menu sported quartets of taster size (€4-€8), starter size (€10-€12) and mains size plates (€16-€18) – nothing as crass as those descriptions were used
– just a listing of the dishes in three columns.
We kicked off with artichoke, cep, hazelnut and onion (€4) as well as whipped brandade, cod skin and lemon (€8). Both plates were absolutely divine. Four artichoke crisps holding micro ceps, artichoke puree and roasted nuts were mouthfuls of bliss, while a little wooden bowl holding snow white textured brandade, stuffed with sweet pepper and onion, was sprinkled with grated lemon and what looked like nigella seeds. To the side were shards of crunchy dried cod
 skin for dipping. Moving on, we ordered "beef & oyster, celeriac, tarragon" (€12), not realizing from the description that the beef was tartare style. It looked as pretty as a picture but, while steak tartare may be having a Scandi revival, raw mince is one of the few things I don't eat anymore. It's also the kind of dish 'what done in' UK food critic Michael Winner! They kindly replaced it with delicious complimentary house-smoked salmon, presented to the table, before plating, on smoking hay in a wooden wine box.
Paul followed up with melt in the mouth suckling pig (€18), elegantly draped with green leaves, a bar of golden turnip, crisp white baby navets, apple sauce and sage. Lamb (€18) for me boasted a brace of succulent pink tranches beside a chargrilled half artichoke and scattered with anchovy and samphire.
We shared an outstanding white chocolate dessert with yoghurt snow, almonds and dill (€6), plus a mini slice of almond cake to the side, and did likewise with a cheese plate (€8) of Comte with a caper and raisin 'blob', green tomato chutney and crispbreads.
With two glasses of Domaine des Enfants, Le Jouet Blanc Organic Macabeu 2014 (€10 each), a glass of Sonho Lusitano Vinhos- Duas Pedras Syrah/Viognier 2013 (€9), water (€2) and optional service, our bill came to €103.
I sat down like a bear, stood up like a purring pussycat. It's exquisite throughout. Form a queue!
Forest & Marcy,

126 Upper Leeson Street,
Dublin 4.

Tel: (01) 660-2480
forestandmarcy.ie
lucindaosullivan.com
First Published in the Sunday Independent