Our Latest Great Place To Eat - Baan Sujittra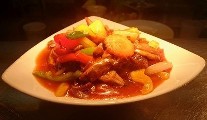 Wednesday 01 June 2016
One restaurant that certainly delivers on the modern diners expectation is Baan Sujittra in Clonakilty, which has spent the last three years delighting avid patrons with their tasty, authentic Thai menu. Head Chef Sujittra Takaew, or Susie for short, is the driving force here having learned to cook from her mother, who had learned from her mother and so on. Susie's approach is that the food she produces should be a reward for the palate and strives to apply this to all of their dishes. She hand grinds the spices in a pestle and mortar, many of which are imported from Thailand for a more authentic experience, cooks everything from scratch to order and uses locally sourced produce wherever and whenever possible.
From the moment we walked through the door at Baan Sujittra we felt truly welcome in this cozy, intimate restaurant and the service throughout our stay was exemplary.
On offer amongst the starters were options like vegetable spring rolls of beansprouts, mushroom, carrots, spring onion and vermicelli noodles served with a plum sauce; chicken satay marinated on skewers and served in a homemade peanut sauce; as well Tom Kha, a mild soup with coconut milk, fresh herbs and fine vegetables, served with chicken, prawns or mixed seafood. I went straight for the spicy Tom Yum soup, which I always love. It was deliciously spicy and aromatic served with my choice of prawns and garnished with fresh herbs. Brendan decided to try their tempura prawn, which were cooked to perfection in the typical light batter with salt and herbs and accompanied by a sweet chilli dipping sauce.
For the mains, there was lots to choose from, such as the spicy sizzling duck cooked with herbs and basil; a lemongrass and chilli stir fry of fresh veg with their in-house special sauce and your choice of meats; not to mention a spicy jungle curry cooked with fresh herbs and mixed fresh vegetable, served with steamed jasmine rice, egg fried rice, noodles or chips.