Our Latest Great Place To Eat - Saba Baggot Street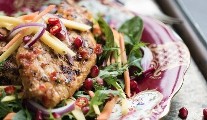 Thursday 26 May 2016
Saba is a shining example that shows if you do things well you will be rewarded. Paul Cadden is the man behind Saba and he has worked hand in hand since the beginning with a quite exceptional chef Taweesak (Tao) Trakoolwattana. Tao is the ninth child in a family of twelve, each of whom had their own job around the house. Tao's job was to accompany his mother to the market each day to buy food and help prepare the daily meals. She was, he says, his first teacher. He subsequently qualified as a chef working in 5 Star hotels in Phuket and Bangkok. A couple of years ago they opened Saba To Go in Rathmines following up a few months ago with another branch in Windy Arbour. Now, they have just opened a second restaurant on Upper Baggot Street, which I think will be very popular.
The paint was barely dry on its second night of opening but everything was so efficient you'd think it had been there for weeks. It's very much in the New York style with a big cool bar to the front and the dining area to the rear. I loved the simplicity of design featuring mainly long banquettes in what is a long narrowish space. Well priced cocktails have always been a big thing at Saba, so we kicked off with Samui Collins of Choya plum wine with two big silky lychees, yuzu juice, honey syrup and soda water, while Bayveen had a Saba Shandy of Singha beer, fresh ginger, lime juice, elderflower syrup, plum bitters and white lemonade. In tall crystal glasses, the aromatic flavours went down a treat with a brace of big fresh rice paper summer rolls filled with tiger prawns vermicelli noodles, green papaya, bean sprouts, carrot, mint and sweet Thai basil, and a trio of cracking aromatic confit of duck wrapped in pancakes with leek, cucumber and hoi sin sauce.
Mains included popular curries such as Massaman and Red Beef, various wok dishes involving fiery birds eye chilies, galangal, ginger, noodles, sweet basil, with your choice of beef fillet, tiger prawns, chicken or tofu, and the every popular Phad Thai noodles and various other noodle dishes.