Our Latest Great Place To Eat - Fire Restaurant and Lounge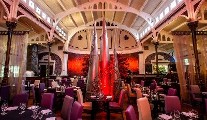 Tuesday 24 May 2016
Fire is not only stunningly located in Dublin's magnificent Mansion House, it is perfectly situated for visiting Dublin's best bars, theatres and hotels, and is an ideal spot for locals and tourists alike.
The restaurant itself, built in 1891 as the Lord Mayor's supper room, which now is the fabulous dining room of the mansion house, is as grand as it is vast, with high ceilings, stained glass and room to accommodate up to 500 diners in an atmosphere that is faithful to the history of the room, whilst still being fresh and contemporary.
At Fire, their ethos is about creating their menus from locally sourced produce and promoting the best that Ireland's food industry has to offer.
On offer to start at Fire, there are dishes like Fire's duo fish cakes of naturally smoked haddock and fresh cod, served with either herb aioli or a chili and coriander jam garnished with pea shoots; wood-fired tiger prawns with sautéed chorizo and crayfish stuffing cooked in garlic butter and olive oil and served with homemade brown soda bread; not to mention a very tempting sounding Hereford beef carpaccio. My partner in crime that evening, Rena, opted for their signature dish of jumbo black tiger prawn martini, with avocado and roast pepper guacamole, rocket and baby gem leaves with their Fire hot gazpacho sauce, which she absolutely adored, whilst I went for the Moroccan spiced Slaney Valley Irish lamb skewers which were wonderfully tender, chargrilled and marinated with a lime and coriander dip. Delicious.
For the mains, there was a lot to consider. Chargrilled jumbo shrimp were grilled Creole style and served with chili aioli, tomato & coriander salsa and twice-cooked chili skinny fries. Irish chicken supreme was served on a bed of champ with Portobello mushrooms, baby spinach and herb crumb, while a 10oz pork chop from Grant's Farm, was accompanied by apple puree, steamed green beans, celeriac, swede and potato gratin. For the serious meat aficionado, they have a selection of their Fire steaks, filled with tasty cuts like a 10oz Irish Hereford prime fillet or ribeye and a detailed breakdown of the preparation options, sides and garnishes. They also had a couple of really tasty sounding vegetarian options for the less carnivorous among you. I decided to go for the lamb 'Tua Chatha', which was a fab dish of full rib chops, pan seared, oven roasted and finished in rosemary butter, accompanied by sautéed lamb's kidney, sweet potato and turnip gratin. Rena chose the whole roast black sole on the bone, drizzled with red onion, lemon and caper butter, and served with Jerusalem artichoke, kale and potato gratin. She was in fishy heaven.