Restaurant Review - Two Cooks Restaurant & Wine Bar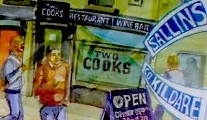 Tuesday 17 May 2016
The old adage may well be 'too many cooks spoil the broth' but when you encounter 
two cooks of the caliber of Nicola Curran and Josef Zammit, you are onto a winner. The husband and wife team have just opened the hip Two Cooks Restaurant & Wine Bar on the banks of the Grand Canal at Sallins, where the vibe may be 'casual' but the service, food and ambiance, superbly professional. Curran has been teaching at Dublin's Cooks Academy on South William Street, while Zammit has been Head Chef at the Brown Bear near Naas. Prior to that, they worked respectively at The Ledbury and Tom Aikens in London, and subsequently together at Dylan McGrath's former Mint in Ranelagh. Sallins is a pretty location, which could become a dining destination, having already two gastropubs, the excellent Lock 13 and the newly opened Bridgewater Inn, as well as Cafe Grange.
The compact exterior and
 chic downstairs wine and tapas bar belie the large upstairs restaurant running across two buildings. The decor is cool with suitably muted colours, dark wood French style chairs, and banquette and booth areas. We were lucky enough to bag a table by the window, overlooking the barges on the canal on one side and, on the other, a bird's eye view of the pass where Zammit and his team were working in a quiet focused manner.
The menu offers 2/3 courses at €29/€36 or with wine pairings at €42/€56. The other option was a 5-course tasting menu with wine at €85. If you have the appetite, from what we experienced, I would certainly recommend it.
A sublimely flavoured amuse of brandade, with a crisp cod- skin feather and fennel ash, plus excellent sourdough bread, got us off to a good start. From a trio of starters, Mary chose a mackerel dish with a wine pairing glass
of Verdejo, while I went for a venison parcel – and driver's water! The third starter option was ham croquette, bacon cream and crushed peas. What we had was spectacular in all respects, combining colour and content with superb textures and flavours. The mackerel, with tomato and garlic leaf mayonnaise, was enveloped in nasturtium leaves, while the venison was a heavenly cube sitting in a rich jus with charred baby globe artichoke, spring onions and radish wafers.
Mains sported cod, chicken, duck or lamb. Mary loved her
dark rich soft succulent duck leg with mangetout and confit orange, the colours totally lifted by the sharp snowy contrast of the little white turnip, which the French love and know as le navet. With this she had a glass of Ribero del Duero. Lamb for me was the only slight glitch. While a beautifully presented noisette sitting on silky burrata, green beans and polenta cubes, scattered with oak leaves and dukkah, (an Egyptian style mix of herbs nuts and spices), the lamb was too chunky and dry. A smaller morsel of pink seasonal spring lamb would have sat better with the elegant presentation. Noticing I hadn't finish it, it was removed from the bill without fuss – not easy to write off 'the profit' I guess when just starting out. We also had sinful cauliflower gratin and little nutty ratte potatoes at €3 each.
We finished on a high note with a sublime dessert of rhubarb, marshmallow and nut crumble (€6.50) and, with Mary's 2-course with wine (€42), my venison starter (€6.50), the sides and desserts, our commuted bill with optional service was €69. It's a classy joint with food from the heart – beat a path.
Two Cooks Restaurant & Wine Bar

Canal View,

Sallins,
Co. Kildare.

Tel: (045) 853-768
twocooks.ie
lucindaosullivan.com
First Published in The Sunday Independent