Our Latest Great Place To Eat - Collins Bar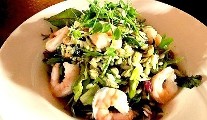 Wednesday 11 May 2016
Collins Bar, on the Dooradoyle Road in Limerick, is a fantastic spot to go at any time of the day, offering great brunches, lunches and dinner as well as an all day selection of salads, soups, gourmet sandwiches, wraps and paninis. On our recent travels, we stopped in for an early evening bite and were more than impressed with the high standard of the service and more to the point, the delectable flavoursome food.
Starters, on our visit, included home cured salmon with organic greens, roast beetroot and a baby spinach purée; chicken wings marinated in Louisiana hot sauce with blue cheese dip & organic leaves; as well as an Oriental Silver Hill duck salad with rocket, organic greens, cherry tomato, spring onion, water chestnuts, bean sprouts and chilli soy dressing. I thought about the Caesar salad, but went instead for a delicious prawn, orzo and zucchini salad with organic greens, chickpeas and olives tossed in a basil pesto dressing. Brendan decided to try their watermelon and Bluebell Falls goats' cheese, which came with an heirloom tomato salad and balsamic honey dressing, and was very happy with his selection.
For the mains there was plenty to tempt, with dishes like a poached ballotine of salmon with Vichy baby vegetables and a lemon pomme puree; seared breast of Irish chicken supreme with baby veg, whipped potato and a Bercy sauce; not to mention a classic ratatouille with basil oil linguine. There was plenty on offer for the carnivorous diner as well, with a 6oz or 10oz sirloin steak being offered with garlic Portobello mushroom, roast shallot and fondant potato, and your choice of pepper sauce, red wine jus or garlic butter. Himself went for, what turned out to be, a fantastic homemade Hereford beef burger in a brioche bun, with Dubliner white cheddar cheese, homemade ketchup and his choice toppings of bacon, mushroom and onion ragout and a side of thick homemade sea salt chips. I, on the other hand, opted for the roast Barbary duck breast cooked to perfection and accompanied by sweet potato, braised red onion, Savoy cabbage and a honey and ginger jus.