Restaurant Review - Wanderlust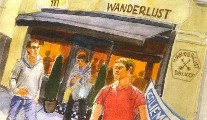 Tuesday 03 May 2016
Wanderlust was a Jennifer Aniston movie a few years back about a couple who, having lost their high-powered jobs in Manhattan, took off to live the rural life, with plenty of comedic episodes thrown in. Now, the Wanderlust handle is everywhere from a hotel in Singapore to guided walks in Glengariff, a UK travel magazine, to an American jewellery collection.
However, the Wanderlust in question today is the one that has seen the Mak brothers, Ricky and Jules, voyage from the inner regions of Ranelagh to the outer regions of Dalkey, to add a second restaurant string to their bow. For many years, their father, Rodney Mak, ran one of the best high-end Chinese restaurants in Dublin, Furama in D4, so they grew up in the biz. It was very popular with the RTE crowd when they wanted to let it all hang out over aromatic duck and a glass or ten of white wine! When Furama closed, the boys moved with the times by opening the less formal Mak at D6, which does a huge range of Dim Sum and Bites.
The decor at the new Wanderlust is urban cool with a big shiny bar doing great cocktails (€9/€10) of which we did not avail. The vibe is laid back with the eclectic menu reflecting the flavours of Mexico, Italy, Portugal, the USA, the Middle East and China. A Bites section (€7-€12), sports the ubiquitous wings, calamari, nachos and tacos with an octet of mains including peri peri chicken, mussels and fries, baby back pork ribs, meatball linguine, gnocchi, a burger and steak frites with flatbread and hummus.
This space had previously been the long-standing Nosh and the sadly short lived, but excellent, Mermaid, so being on familiar territory, I headed for my fave table in the corner from where I could see, on its first night open to the public, everything was flowing beautifully. My freind Mary and I shared starters of prawns pil pil (€9) and pork yuk sung (€8). The prawns - which were served piping hot in a black cast iron pan with chargrilled bread to the side - were big and chunky with lashings of garlic and chilli. I'll have them again! The yuk sung consisted of a trio of crisp lettuce leaf cups overflowing with seasoned minced pork, which was topped with rice noodle crisps and radish wafers. Both were great dishes for low-carb aficionados. To follow, we both went down the Middle Eastern route, Mary with a calamari salad (€14) of fine rings of salt and pepper calamari propped around a mound of herby couscous with rocket and a lemon and dill yoghurt dressing, all of which she enjoyed. I had chargrilled centre loin lamb chops (€19) which were delicious - charred on the outside, tender on the inside - served on fennel and black olive couscous with minted yoghurt and flatbread. Sides (€3.50/€4) included fries, corn on the cob, skinny stem almond broccoli, sweet potato fries, onion rings and mini crispy tofu salad, but we passed. However, from the desserts (€5) – brownie, banana taco and an ice-cream sundae – we shared a really delicious, zingy lemon posset, topped with raspberry compote, which was served with a chocolate chip cookie on the side.
With a lightly aromatic bottle of Domaine de Lacabasse 2014 Sable Fauves IGP (€26) from the south-east coastal Landes region of France, bottled water (€5), one espresso (€2.60), and optional service, our bill came to €97.20.
We enjoyed everything we had and I look forward to returning in the hope that they might have extended the culinary voyage further, with their Chinese Dim Sum, which are excellent.
Wanderlust,
111 Coliemore Road,
Dalkey,
Co. Dublin.
Tel: (01) 235-1548
wanderlustdalkey.ie

lucindaosullivan.com
First Published In The Sunday Independent