Our Latest Great Place to Eat - Kaya Thai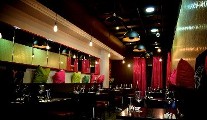 Tuesday 03 May 2016
Kaya Thai restaurant in Limerick, specialises in modern Asian cuisine and have a fantastic team of highly qualified and skilled Thai chefs, all of whom have spent many years perfecting their culinary art both in Ireland and Thailand, so they are experts and producing authentic, great quality food that is tailored to the Irish palate. They pride themselves on the high quality of their ingredients, which are completely free of MSG, preservatives and, where possible, are locally sourced. Their menu also offers a wide assortment of dishes that are vegetarian and coeliac friendly.
The restaurant itself is stylish and modern with dark wood floors and furniture being offset by bright curtains and cushions and other decorations and artwork about the room, while a long mirror along one wall amplified the dangling, shade-less light fixtures above. There is an open wall to the kitchen, where their team of chefs are busily woking away, adding that perfect amount of casual vibe to a very well crafted atmosphere.
To start, there were some really unusual and delicious sounding dishes alongside fan favourites like spring rolls, Thai fish cake and dim sum. Their Tempura Nua Cua, soft shell crab with a spicy mango salad and cashew nuts served with garlic mayonnaise sounded tasty, as did the Gyoza Gai grilled chicken dumpling with ginger and garlic sauce, but in the end I went for their Chicken Murtabak, a toothsome roti prata wrap with seasoned chicken and onion which I thoroughly enjoyed. Meanwhile, Brendan decided to try their spicy Yum prawn, Thai style grilled prawn salad with lemongrass, cherry tomato, carrot, cucumber ribbons, coriander, chilli, fish sauce and lime juice, and was delighted with what arrived to the table.
For the mains, there were four headings to look under – Thai Curries, Noodles & Rice, East Meets West, and Wok. The curries included the red, green and yellow Thai varieties with various meat and fish options, as well as a Massaman curry, slow cooked with beef or chicken, and a lamb Rendang curry simmered in lemongrass, galangal, dry chilli, turmeric, cumin and kaffir leaf. There was a lot on offer too from their Noodles & Rice menu with dishes like traditional Pad Thai, Singapore noodles or prawn & crab fried rice. I quite liked the sound of a spicy Suki Haeng of chicken or prawn with glass noodle, Chinese leaf and Thai garlic pickle.