Our Latest Great Place To Eat - Eastern Tandoori Loughrea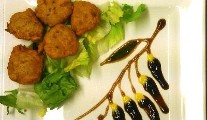 Friday 22 April 2016
The Eastern Tandoori Loughrea, which is a sister restaurant to the Eastern Tandoori on Spanish Parade in Galway, pride themselves on bringing the grandeur of India to a semi-formal but relaxed setting, with a menu full of recipes from various regions of the subcontinent, from the rustic Tandoori Kebabs of the North West Frontier Province to the Mughlai dishes of Lucknow and Hyderabad, to the seafood dishes of India's coastal towns and cities. All of their lamb, chicken and fish are fresh and locally sourced, while spices are dry-roasted, ground and blended, each day and only added to your chosen dish a
short time before being served to retain oil and freshness.
Starters at Eastern Tandoori include nimbu jhinga, pan seared prawns with red onions, garlic, long black pepper and curry leaves; onion bhajis of mixed herbs and spices deep fried; or a shish kebab of spiced minced lamb and herbs delicately roasted. Their jumbo prawn butterfly marinated and deep-fried in special Indian butter sounds great also. All appetisers are accompanied by a salad and sauce.
For the mains, there are some really great options to choose from, with an Eastern fusion menu, biryani specials, all time favorites and chef's recommendations. On their Eastern fusion menu they offer dishes such as Dum Pukht Gosht, a classic slow-cooked yoghurt lamb recipe infused with a unique blend of aromatic spices; or the very popular Lal Maas, a lean leg of lamb slow-cooked on the bone with red chilli, garlic, ginger, coriander seeds, tomatoes and specially blended garam masala. From the biryani specials you could have a chicken, lamb, prawn or vegetarian meal flavoured with saffron, mild oriental spices, Basmati rice, a garnishing of nuts and a side of raita – or you can order their Eastern special biryani which includes a little bit of everything.