Restaurant Review - Saba Baggot Street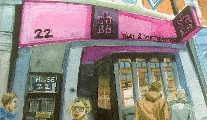 Tuesday 12 April 2016
Some people find Indian food too strong, most like Chinese, but pretty well everybody loves Thai with its subtle aromatic spicing. We were, however, at one point of our Celtic Tiger excesses overrun by terrible excuses for Thai restaurants dishing out nauseous slop that was but an insult to the Thai nation. Happily, most disappeared down the river of no return proving that when it comes to bad food people vote with their feet.
On the other hand, Saba, which means 'happy meeting place', is one of the great Thai success stories celebrating its tenth birthday this year. It's a shining example showing that if you do things well you will be rewarded. Paul Cadden is the man behind Saba and he has worked closely from the outset with the quite exceptional chef, Taweesak (Tao) Trakoolwattana. Tao is the ninth child in a family of twelve, each of whom had their own job around the house. His job was to accompany his mother to the market each day to buy food and help prepare the meals. She was, he says, his first teacher. He subsequently qualified as a chef working in 5-Star hotels in Phuket and Bangkok. A couple of years ago they opened Saba To Go in Rathmines, following up a few months ago with another branch in Windy Arbour. Now, there is a hot new Saba restaurant on Upper Baggot Street. The paint was barely dry on its second night of opening, but everything was so streamlined you'd think it had been there for weeks. Very much in the New York style, with a big cool bar to the front and dining area to the rear, I loved
the simplicity of design, featuring mainly banquettes in what is a long narrowish space. Well-priced cocktails have always been a big thing at Saba, so I kicked off with Samui Collins (€7.95) of Japanese plum wine with two big silky lychees, yuzu juice, honey syrup and soda water, while Bayveen had a Saba Shandy (€7.95) of Singha beer, fresh ginger, lime juice, elderflower syrup, plum bitters and white lemonade. In tall crystal glasses, the aromatic flavours went down a treat with starters of fresh rice-paper summer rolls (€8.95) filled with tiger prawns, vermicelli noodles, green papaya, bean sprouts, carrot, mint and sweet Thai basil, and a trio of cracking aromatic confit of duck wrapped in pancakes (€9.95) with leek, cucumber and hoi sin sauce.
Mains (€14.95-€26.95) sported popular curries such as Massaman and beef in a red curry sauce,
plus numerous wok dishes based on your choice of beef fillet, tiger prawns, chicken or tofu, suitably enhanced with just the right measure of fiery birds-eye chillies, galangal, ginger, noodles, sweet basil and other enticing flavours. Pan-fried John Dory was there, as was a 10oz rib eye steak, plus chargrilled pork with Vietnamese kim chi. I'm far from virtuous but I love that good Thai food always abounds with fresh vegetables and herbs and I went down the really healthy route with 'Primal Green Prawn' (€18.95) from their Paleo section. This was a super healthy bowl filled with prawns, butternut squash, broccoli, peppers and coconut in a mildish red sauce. Bayveen absolutely loved her monkfish (€21.95) in a green curry sauce with jasmine rice (€1). The fish was delicious bathed in a sauce that was complex with layers of flavour that seemed to just follow on in waves. From the desserts, at €6.95, Bayveen had delicious ginger, orange and dark chocolate mousse, whilst I had cracking Boulaban mango and blood orange sorbets. With bottled water (€4.95) and two glasses of Cantina Soligo Pinot Grigio (€7.65 each) our bill with service came to €121.85.
Saba,
22 Upper Baggot Street,
Dublin 2.
Tel: (01) 563-1999
sabadublin.com
lucindaosullivan.com
First Published in The Sunday Independent