Restaurant Review - Craft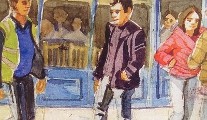 Tuesday 15 March 2016
There comes a point when every ambitious young chef, having talked the talk on behalf of others, wants to walk the walk and open their own restaurant. Over the past 12 months, we've seen a number of guys move ahead to do just that. Keelan Higgs and Connor O'Dowd breathed new life into Locks, while nearby at Leonard's Corner, Barry FitzGerald, ex Etto on Merrion Row, opened the darling du jour Bastible. Sunil Ghai of Ananda fame is on the cusp of opening his Pickle Indian restaurant on Camden Street, while Damien Grey teamed up Andrew Heron, to set up 
the delightful Heron & Grey in Blackrock Market.
The latest addition to this 'band of brothers' is Philip Yeung, former Head Chef of Bang on Merrion Row, with his spanking new Craft in D6W's Harold's Cross. Located in a former cafe, in a row of shops on the main drag, with black walls and a little bar in the front section, it has all the vibe and ambiance of a little Parisian bistro, plus the benefit of Yeung's contemporary high-end food at good prices. I can see it becoming a very chic neighbourhood eatery that's also worth a detour.
Each section of the menu offers four choices, and so, from 'snacks for the table' (€3.50/€5), we kicked off by trying fabuloso Jerusalem artichoke crisps (€3.50) with the tastiest ever bacon mayo, alternately chomping on crispbread shards (€5) topped with quenelles of crab and dots of avocado puree. First courses (€8/€10) included Jerusalem artichoke, pear, hazelnut, kale, smoked creme fraiche and a broth of vegetables with a ricotta dumpling and lovage pesto. Mary had a chunky rondelle of game sausage (€10) on succinctly flavoured pearl barley with chestnut and plum, while I had a superb Japanese style plate cured salmon (€8) on a black sesame paste, contrasted with chunks of cucumber, daikon wafers, and a quenelle of salmon tartare with smoked creme fraiche.
Mains (€18/€22) sported charred rump cap and feather blade of beef, onion and chanterelle mushrooms, while the pescetarian offering was cod, mussels, leeks and kohlrabi. Smoked Wicklow venison (€22) again was spot on, charred on the outside and blood rare in the middle, you could almost smell the heather of the mountains. Split in two, it was arranged on the plate with architecturally contrasting cylinders of swede, wafers of beetroot and sections of sublime sweet pear. I was in veggie mode and absolutely loved my choice of giant sections of roasted squash (€18). With an incredible almost charred flavour, they were splayed across the plate like a golden arch, with a soft boiled egg between the 'legs' and draped with aubergine, wilted cavolonero and truffle pesto. We were also brought an ethereally silky mash and broccoli spears with a great Caesar dressing.
Desserts (€6.50/€7.50) included a chocolate and hazelnut number, a very tempting sounding blood orange cake with rum and raisin, plus a yoghurt posset with granola, rhubarb and lemon balm. We, however, had indulged sufficiently and passed.
Wines lead in at €25 but we just had a glass, from a blackboard selection, of Verdejo (€6.50) for Mary and a delicious Sardinian Giunco Vermintino (€8.50) for me. With a bottle of water (€3.50) and optional service, our bill came to €93.
They also have an excellent Neighbourhood Menu available from 5.30pm-7pm with two courses at €20 and three courses at €25. From our experience that sounds like a steal to me.
Craft,
208 Harold's Cross Road,
Harold'sCross,
Dublin 6W.
Tel: (01) 497-8632
craftrestaurant.ie
lucindaosullivan.com
First published in the Sunday Independent