Our Latest Great Place To Eat - I Monelli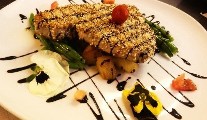 Tuesday 29 March 2016
Chefs Gianni De Santis and Ivano Addabbo share a passion for food that was cultivated in their childhoods and developed whilst working at some of the top restaurants in the world. Together, at I Monelli, they strive to provide their patrons with food that is not only exceptional in flavour, but in it's presentation as well.
From the moment you walk in you know you are in for a treat. The restaurant itself is warm, comfortable and inviting, but it's the service that really creates the relaxed atmosphere at this family friendly eatery.
On my visit, starters included sliced veal with a delicate mayonnaise, tuna sauce and capers from Pantelleria Island; Gamberi al Balsamico e Fragole - prawns and leeks with balsamic vinegar and strawberries; as well as a carpaccio of Fassone beef fillet with Parmesan cream and porcini mushrooms. I decided to try their Capesante al Martini, a dish of perfect pan-fried scallops, which were simply mouth watering with Martini Bianco and served with a mint and olive pate. Himself decided to try their Carne salada which was marinated beef served with a mousse of Piedmont Toma cheese, and Traminer aromatic wine and a chestnut honey, which he enjoyed immensely.
For the mains, there was lots to choose from, such as risotto with wild berries and braised duck with a reduction of Barbaresco wine; a delicious sounding homemade pappardelle pasta with venison ragout and Barbera wine reduction; not to mention a pan fried veal escalope with sage port wine, wild mushroom and caramelized red onions.Always a fan of lamb, I happily chose a beautifully presented and thoroughly delicious rolled lamb dish stuffed with Italian bacon, peppers, cream and a ricotta mouse and served with roast baby potatoes, while Brendan, predictably enough, took the carnivorous route with a really good 10oz Di Fassone rib-eye beef steak which came with roast potatoes, a mixed salad and a side of pepper sauce.
With a little room left over for something sweet we perused the dessert menu, which featured some great Italian treats like Affogato, Italian vanilla ice-cream bathed in espresso; or a tasty sounding tiramisu.