Restaurant Review - Pickle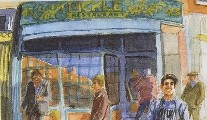 Tuesday 22 March 2016
There isn't a culinary accolade that Sunil Ghai hasn't achieved. Over the past decade he's been declared 'Best Chef in Ireland' by various awarding bodies, while the superb Ananda restaurant, where he has been based, has also been awarded the title of 'Best Restaurant in Ireland'. However, the fresh challenge for Ghai is his new Pickle Eating House & Bar, which has just opened on Camden Street, and is the hottest ticket in town.
Born in Gwalior in North West India, from age 10, Ghai helped his mother with food for the large family. After school, he qualified in Hotel Management, working for the top Taj Hotel Group, before joining the superb luxury Oberoi Hotel Group in Shimla, the summer capital of the British Raj. Here he broadened his culinary skills and sophistication by working under French chefs for three years.
He's returning to his roots with Pickle, focusing on North Indian regional cooking, in a setting that is based on the old Irani cafes of Bombay, with their multi-societal clientele. Their faded elegance is recreated here with exotic tiled floors, stained mirrors, beaten- silver plates, vintage light fittings and dark battleship green walls. The menu is broken up into Gupshup, which are small plates (€4/€10.50), while Tandoori Chakna covers chops and game (€10/€24) and Desi Khana are curries and biryanis (€14.50/€32). While Paris has MG Road and London has Dishoom in the Bombay cafe style, this is a completely differently type of Indian experience for Dublin. You won't be kicking off with standard poppadoms at Pickle, but you will discover glorious breads such as toasted pao with a goat curry and glorious deep-fried featherlight bread balls with chana bhalura, a superb Delhi special of masala chickpeas and mango pickle. I do, however, suggest that you invest €4 for a stunning box of multi-shaped and coloured cassava, lentil, and vegetable crisps with deep dense pickled prawns and mango chutney. Gupshup sported curried scallops, and semolina coated prawns, but we ordered dilli wala samosa (€7), venison keema roti (€6) and chicken wings (€9) to share. Ghai's presentation always dazzles. It's amazing how the man can make three potato and pea samosas simply sparkle on a black plate by just standing them like pyramids overlooking a creamy pool of sour yoghurt, spiked with three electric pink pomegranate seeds, alongside a dish of ginger, raw mango and jiggery chutney. The chicken wings had the bone exposed to eat like lollipops or dip into roasted tomato, garlic and Kashmiri chilli chutney, while venison keema had the meat stuffed into naan bread and served on a vintage style blue and white plate with a silver bowl of berry chutney. Barbary duck, ribs, lobster, tiger prawns, wild boar vindaloo are all there, but I had Tawa Machhi (€14), boneless pan-fried sea bream, topped with a quenelle of crab chutney, and sprinkled with 'micro-chips', and carrot and beetroot tinged cauliflower pickle. Equally stunning was friend Paul's guinea fowl masala (€24), the little bird jointed and chopped, covered with fresh green beans, peppers, onions, coriander and sesame. With these, we shared a portion of top quality, aged Basmati rice (€3).
We finished sharing a fab Kulfi Falooda (€7.50), ice-cream with vermicelli, basil seeds and rosewater, from an Iranian recipe. With a bottle of South African Leopard's Leap Chenin Blanc 2015 (€28) and optional service, our bill came to €113.50.

Sunil Ghai is a master of his craft.
Pickle Eating House & Bar,
43 Lower Camden Street,
Dublin 2.

Tel: (01) 555-7755
picklerestaurant.com
lucindaosullivan.com
First published in the Sunday Independent