Our Latest Great Place To Eat - La Cote Seafood Restaurant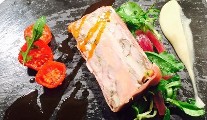 Tuesday 22 March 2016
Quickly gaining momentum in the foodie world, La Cote is ably helmed by chef patron Paul Hynes and his partner Edwina Tubbritt with the ethos of providing every customer with a unique dining experience using their fab seasonal menus made up of the very finest seafood matched with foraged and locally sourced ingredients.
The restaurant itself is bright and modern with black leather seating opposing the brilliant white walls and slightly retro light fixtures dangling above. For the atmosphere to be right, at any restaurant, good friendly service is a requirement and, at La Cote, the staff are excellent - attentive, cordial and professional.
On an evening visit, we ate from a 2/3 course set menu with starters that included a goat's cheese ravioli with red pepper ketchup, brioche and a basil gel; stemmed suet pudding with Richie Doyle's oxtail and parsley cream; as well as their La Cote style local seafood chowder. I opted for a delicious tempura of prawns in a perfect light crispy lemon batter, chilli jam and lemon and thyme crème fraiche, whilst my dining companion went for the superb salmon gravlax, beautifully presented with blini, dill jelly and a celeriac remoulade.
The mains, which were all served with a side of veg and potato, had lots to offer such as the grilled flat fish of the day, with five spice, carrot puree, citrus nage and an orange reduction. Their duo of local fish bouillabaisse sounding tempting with garlic croute and sauce rouille, as did Nick George's wild mushroom pie served with a white wine sauce, leeks, herbs and a puff pastry, but in the end I was drawn to the roast fillet of salmon, which was terrific. Beautifully presented and superbly flavoured, the fab fish was served up with a beetroot puree, grapefruit gel, Parma ham crumble and beetroot veloute. Across the table, my pal had gone to shore with an order of sous vide leg of Barbary duck, cooked to perfection and served with a rich red wine onion, orange and vanilla puree and spiced apricots.