Our Latest Great Place To Eat - The Mystic Celt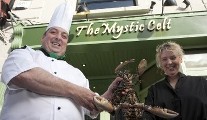 Wednesday 16 March 2016
Using only sustainable fish and Irish beef, local crab and lobster, and growing much of their own ingredients, foraging and bartering also, with most of the rest being sourced within a 50 mile radius, the menu at The Mystic Celt offers dishes that recreate and reimagine our native fare. They also readily offer gluten free and coeliac friendly dishes given prior notice.
The restaurant itself, once you pass the lobster tank and inviting foyer fireplace, is divided over two levels with upstairs and downstairs both sharing a warm atmosphere of polished wood floors and rough stone walls. On my visit, we were seated upstairs, in a room I love with it's pitched ceiling and oak beams. Starters included a seafood symphony of seared scallops and local black pudding with preserved lemon cream; their 'Enchanted Celt' – Dunne's sausage and pudding's with puff pastry, bacon and a red wine jus; as well as John Hempenstall's Wicklow Brie with three seed crumb, cranberry and orange sauce. I decided to try their Irish mussels, a fantastic collection of delicious Roaring Bay organic mussels served with cider, scallion, garlic and farmhouse cream. Himself went for the 'Mystic Goat's Cheese', which was Old Mac Donnell's melt-in-the-mouth gorgeous goat's cheese accompanied by sauté potatoes, poitin and beetroot puree. He was delighted.
For the mains, the menu is divided into three sections. 'Straight from the barrow' featured fishy delights like their 'Salmon of Knowledge', roasted and served with grilled lime, spinach and a tomato coconut sauce, whilst their 'from the feasting halls of Tara' section was a little meatier, with offerings like a slow cooked Wicklow lamb shank with champ potato, rosemary and lamb jus; or grilled buttermilk chicken alongside fennel pork with sweet potato and a berry jus. Catering for the herbivores, their 'Four Green Fields' section offers meat free dishes such as their Mystic pasta with spinach, kale and confit tomatoes with roasted tomato and basil sauce; or their 'Joe Keogh's Field' dish of Wicklow mushrooms and spinach, champ potato cake and beetroot puree. Brendan went for the 'Mystic Gaelic Steak', a mouth-watering 10oz dry aged beef fillet served with onions, mushrooms and his choice of a creamy pepper sauce, and was thoroughly happy with his selection. I however, went for a meat free option in their Old MacDonnell's goat's cheese and kale dish which was everything I hoped it would be served up with sweet potato, pickled cucumber, grilled scallion and their Mystic blackberry syrup.