Restaurant Review - Heron & Grey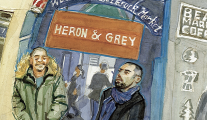 Wednesday 02 March 2016
"Are you adventurous when it comes to food?" The voice on the end of the phone asked me. "I'd want to be in this job", I thought smartly. "If there's anything you don't like, we can work around it, the menu is up on the website." Very agreeable and wise, when what they offer is a table d'hote no choice menu that changes weekly. I was speaking to Andrew Heron, the front of house half of the new Heron & Grey duo that has taken over the James Sheridan and Soizic Humbert's Canteen @ the Market in Blackrock. Sheridan and Humbert will shortly be opening Canteen Celbridge
It's brilliant nowadays that finely executed food doesn't just fall into the starchy 'white tablecloth' territory. So many exciting young chefs are pushing themselves with experimental and challenging food in the simplest and sometimes the oddest of settings with overheads that make their operations feasible. It only goes to prove that if the food is good enough the customers will come.
Damien Grey is an Australian-born chef who has been here a dozen plus years working in top restaurants, the most recent being Chapter One, while Andrew Heron has also been in the restaurant industry, most recently at Luna. When I reviewed Canteen two years ago I said it felt a little bit like being invited into something like TV chef Rachel Khoo's 'Little Paris Kitchen' and it still has that great intimate feel. This is added to by the fact that they only do one sitting on Thursday, Friday and Saturday nights with a 5-course menu costing €48 being served at 7.30pm. They also do a 2/3-course lunch on Friday and Saturdays at €23/€26. H & G, however, have revamped the interior for the better putting in a long comfortable banquette, and added a slightly screened off nook which is perfect for six to eight people.
The menu is written in the current staccato style, so while you know the ingredients you have no idea how they are being presented. Bread, garlic & chive butter was straightforward enough, but hare, pheasant, guinea fowl, to what seemed like unanimous delight was a fat fabulous flavourful boudin with richly braised leeks, shreds of soft greeny white leeks and a quenelle of cool creamy deliciousness all combining the sweet sour salty umami flavours. A raspberry and dehydrated milk palate cleaners was followed by a stunning sweet sour salty umami dish of cod, cockles and oyster, one of the best things I've tasted this year. In a Japanese style black bowl, the pearly whiteness of the fish, and the dual tones of the cockles, were set off by by vibrant seaweeds, with a creamy soup being added at the table. Duck, old berries, green cabbage, was equally stunning, delivering as it did on sweet sour bitter umami flavours, in a palate of ruby rich reds, set around two almost fearsome blood red tranches of duck breast whose skin had a Japanese lacquer finish. It was topped with dehydrated raspberries, nestling beside cluster of rich cherries and cranberries and star anise sauce, all sitting on a carpet of green Savoy cabbage on a bronze plate.
The final plate was perfectly measured to cut through the previous richness being a crisp apple arrangement involving contrasting apple textures with nuts. That was it we thought, until we ordered coffee and had, yet again, the most amazingly indulgent chocolate petit fours plate arrived.
We were very abstemious when it came to vino and our bill with two glasses of Ribero del Duero, Proyecto Garnachas de Espana, Moncayo 2012 (€8.50 each), two bottles of water (€4 each) and optional service came to €135.00.
Damien Grey's food shines not only with his pairings and presentations, but his depth of flavour – something that is not always a given. This is one of Dublin's absolute hidden gems.
Heron & Grey
Blackrock Market,
19A Main Street,
Blackrock,
Co. Dublin.
Tel: (01) 212-3676/087 608-3140
heronandgrey.com
lucindaosullivan.com
FIRST PUBLISHED IN THE SUNDAY INDEPENDENT