Restaurant Review - Pullman Restaurant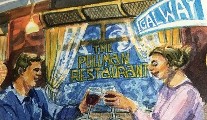 Saturday 20 February 2016
The train may not have left the station but nevertheless we embarked on an exquisite taste journey that was not only romantic, but encompassed one of the best dining experiences I have had in a very long time. We were dining in the Pullman Restaurant, in one of two dining carriages called Leona dating back to 1927, which was part of the original Orient Express travelling Europe in the first half of the 20thC. Its last official journey was in 1965
Armed with retro style 'First Class' tickets, we entered the rear door to the carriage, which is flanked dramatically by two great big Chinese lions baring their teeth. What really blew me away was the exquisiteness of the actual carriages, the creamy lacquered curved ceilings with gold beading, the amazing lighting, the antique lace curtains, the extraordinarily beautiful inlaid wood panelled walls, the fine china, nothing is missed. You cannot but immediately be transported back to all of the people who have been in these carriages from its days in service to its days in the film industry when Albert Finney starred as Hercule Poirot in the 1974 movie Murder on the Orient Express. The cast list for the screening of Agatha Christie's famous murder mystery was a who's who of iconic movie stars from Lauren Bacall to Ingrid Bergman, John Gielgud to Vanessa Redgrave, Sean Connery to Richard Widmark and so many more who swept through these carriages in amazing costumes of the time.
Alan McArdle is the Head Chef here and you are going to hear a lot more of him. His food is contemporary classic in style with an impeccably restrained elegance. I would venture to say he is Michelin Star material but who knows what way they think! Dinner per se is €52/€59 for 2/3 courses but then there are the little inbetweeners.
A glass domed amuse bouche of 'bacon and egg' revealed not only an aromatic waft but a pretty little rectangle of bacon topped with a quail's egg, and bright yellow saucy hollandaise dots. Starters included confit duck leg with seared foie gras and Beluga lentil jus, and Galway Goats farm cheese mouse with organic beetroot and truffle soil. I had a superb tian of Liscannor crab paired with a rectangle of Connemara smoked salmon, artfully arranged with varying size translucent and creamy blobs and dustings involving red caviar, green apple, yogurt, cucumber and wasabi. Brendan loved his perfectly seared melt in the mouth square of suckling pork belly, paired with a brace of sublime seared king scallops, wafers of romanesco, and drizzled with a caper and raisin dressing. This was followed by a refreshing Champagne sorbet with sea buckthorn berries – one of the superfoods of the moment.
Mains sported Dexter beef fillet, as well as an assiette of rabbit with a girolle stuffed loin, offal tartlet, pressed shoulder and potato truffle mousseline. I love wild halibut, it's an expensive meaty fish, and you only tend to see it in 'better' restaurants, so I wasn't missing out on that. McArdle presented it with Jerusalem artichoke puree, haricot beans, sea herbs, smoked oyster, and bisque foam. Brendan had a perfectly seared supreme of Athenry chicken with a parfait tartlet, a crisp croquette made from the chicken leg, baby navet, Irish kale, a fondant potato and thyme jus. Both sublime.
Desserts by Head Pastry Chef, Michelle Valentine, (how's that for timing on this day) kept up the standard as I had a really simplistically fun contemporary take on a ginger and vanilla arctic roll gin and winter berry granite, damson jam. We followed up with coffee and petit fours and with a bottle of quite zesty peach, mango and mineral tinged Pecorino Vellodoro Umani Ronchi 2014 (€43) from the Abruzzo region of Italy, the bill with optional service came to €169. It's hard to imagine anything more romantic.
Pullman Restaurant,
Glenlo Abbey Hotel,
Kentfield,
Bushypark,
Galway.
Tel: (091) 519-600
glenloabbeyhotel.ie
lucindaosullivan.com
FIRST PUBLISHED IN THE SUNDAY INDEPENDENT