Lucinda talks to Ciaran & Maeve Reid of Brambles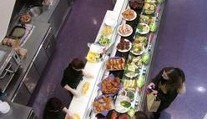 Tuesday 26 January 2016
'No two quiches will ever be the same, because everything is made by hand, as it was on the first day when we opened in 1998. There are no big machines in our production centre, only big ovens and dishwashers and a chefs' table. The only things we buy in are soft drinks and crisps."
I'm was speaking to the delightfully modest Ciaran and Maeve Reid, who now count 20 locations amongst their hugely popular chain of Brambles cafes - from the National Museum of Ireland in Kildare Street to Dundrum Town Centre, from Russborough House in Wicklow to the Jervis Centre, right up to the National Museum of Country Life in Castlebar (not to mention their outside catering division and Brambles Restaurant in Terenure).
What started out as one cafe in the old Dundrum Shopping Centre now employs 200 people, including their original staff who started out with them in Dundrum plus eight other members of their immediate family, so it can truly be called a family business.
Both from Dublin, they met and married when they were very young. Bubbly Maeve laughs as she tells me that Ciaran went to Synge Street while she was at the Holy Faith Convent in the Coombe.
"Ciaran was a pioneer at the time, now we both enjoy a glass of wine. We heard there was a meeting on to do with social work in helping the elderly and needy. So my girlfriends and I decided we'd go and investigate all this and see the boys!
"That's how we met - across the room. I was very feisty, I had a view and stood up and spoke and he saw me at the time in my ripped jeans and boots!"
They both went on to work in finance, Ciaran in accountancy and Maeve in the Revenue Commissioners.
"We got married very young - I was only 21 - and we started our family immediately. At the time it was very difficult to juggle work and family."
They have four sons, Fionan (35), Caolan (33), Cillian (30) and Donnacha (26) - all of whom are involved in the business, as are their wives and partners.
"We opened our first cafe in Dundrum in 1998," says Ciaran. "The recession had come and the company I worked for closed down. Maeve is very into food and we used do things for friends and family with no money involved.
"We decided to see could we make money out of that, because I was looking for a job but there were no jobs anywhere.
"The opportunity came up in Dundrum and we took over an old shop that had been a delicatessen. Everybody told us we were crazy, but we were successful from the first day we opened.
"I suppose we were lucky at the time and kind of unique because there were very few locations where people were actually cooking on site and the food was coming a couple of yards out of the kitchen to be sold.
"It grew organically from that - we never sat down and drew up a plan. But we were delighted because all of a sudden we were able to sit down and pay our bills and look after our four boys, send them to college and so on."
They then got a phone call from an estate agent about a little unit in Knocklyon Shopping Centre, which they opened - and so it continued.
"We knew we liked proper homemade wholesome food because that's what we were reared on, the sort of food people want to eat every day. We wanted to do really good dishes such as chicken and broccoli bake, really good quiches, home-cooked ham, home-cooked turkey, home-cooked chicken.
"We didn't buy in any of our meats - and still don't to this day. We cook everything ourselves because we know we can stand over it, and people trust us."
Maeve takes up the point.
"People think we've machinery to do everything and when they come to our central production they find there's nothing there only a chef's table a few big bowls. Many people who have become automated say to us we're mad because they might have one person to our five - but the end product is not the same."
They are of course conscious of the healthy eating trend.
"It's just small changes to recipes," says Ciaran. "Before we were all blissfully ignorant about what we were putting into our bodies and now, with simple changes, rather than a dish being 600 calories - or in some cases 1,000 calories - you are able to modify the dish without changing the flavours, or make it that it is not too high in sugar or anything like that so it becomes more sensible to eat.
"We have a young team in the kitchen in our production facility who are very au fait with that and they are bringing that to the elder lemons like ourselves, and we're embracing it."
They've also been into gluten-free foods for quite a long time as their daughter-in-law had adopted a gluten-free diet.
"We've added four new cafes to our repertoire last year. They'll be coming into their own in 2016. We opened in a wonderful little spot called Kilmacurragh in Co Wicklow, which is part of the National Botanic Gardens of Ireland. It's a very small little tearooms with outside seating and wonderful walks on 600 acres."
They've also opened at Horkan's Garden Centre on the N11 near the Glen of the Downs, at Rathfarnham Castle, and in the Lexicon on Dun Laoghaire seafront.
Maeve looks after the outside catering business personally, doing a lot of conferences, lunches, weddings and so on. They are on the panel for Dublin Castle and Farmleigh and also look after events at a lot of the embassies.
"It's down to detail, but the client knows I look after everything - that it all goes through me and that their expectation is going to be exceeded."
However, they don't just do gala dinners and huge events, they will cater for your party at your home, or they also have a great service whereby they will deliver your party food to a venue that may not have its own kitchen facilities.
Ciaran and Maeve say that people are prepared to come out and enjoy themselves more frequently now and maybe spend a little bit more, with the last six months being particularly good.
More info www.brambles.ie
First Published in the Sunday Independent