Our Latest Great Place To Stay & Eat - Hylands Burren Hotel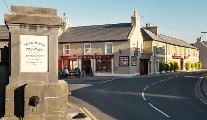 Thursday 28 January 2016
Set in the heart of Ballyvaughan Village, the Hylands Burren is the perfect spot from which to explore the landscape of the magical Burren, which has attracted the rich and famous including Prince Charles, and indeed our ever more popular west coast. Whether it's for a family holiday, a couple's getaway or a visit with friends, the Hylands Burren Hotel is the ideal friendly warm and welcoming spot in a great location.
Though long established as a popular west coast hotel, the Hylands Burren in the last year it has gotten a much-needed injection of life, restoring it to and surpassing its former glory. Responsible for the rejuvenation are the Quinn family, who have lovingly re-vamped and tastefully modernised this wonderful spot, refurbishing and adding charm to all of the hotel and all of its 32 bedrooms, guaranteeing their guests surroundings that are both pleasing to the eye and truly comfortable.
Thoroughly welcoming, the staff at the Hylands Burren are exceedingly helpful and have a great knowledge of the local area – the must-sees and dos. So, don't be afraid to ask – there is nothing like local knowledge. If you're thinking of heading west in the winter months, the hotel being open year around, then you can look forward to curling up by an ambient, mood-setting open turf fire. All of their bedrooms are beautifully decorated en-suites, and feature all of the modern facilities one expects. If you want to make your stay a little more historic, then book one of their traditional bedrooms, dating back to the mid 18th century, which are located in the oldest part of the hotel, above the main bars and restaurant.
If food and drink are an important part of your retreat, then never fear, the standard here is very high, both in their fantastic Burren Bar, which is regularly frequented by traditional Irish musicians and storytellers, and indeed has a great bar food menu prepared from the finest local produce; as well as their fab Hylands Burren Hotel Restaurant, where their Head Chef and his team are committed to producing an excellent standard of cuisine, using the best local ingredients to create an extensive and entreating menu. The kitchen staff here is also clearly very aware of the growing health trends and the necessity of having good vegetarian and gluten free options. As a part of the Burren Food Trail, the Hyland Burren is committed to championing local suppliers and delighting visitors with the enormously high standard of the food they prepare.