Our Latest Great Place To Eat - Farmhill Cafe & Restaurant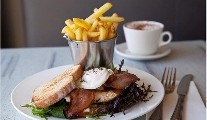 Tuesday 26 January 2016
Farmhill restaurant on Farmhill Road, with its cool New England style 'washed' decor, is the sort of place where you can roll in for a casual breakfast or brunch and return a few hours later for dinner to find it transformed into evening mode with all the bells and whistles. Whatever you do, pay a visit to the loo, with its fab Moroccan style Farrow & Ball hand screened wallpaper, and its glittering chandelier, it's good enough to have a tea party in! Their aim is to provide a relaxed atmosphere which will appeal to all generations and simply become their 'local' eatery.
We went along on the for a late Sunday brunch and thoroughly enjoyed pretty well everything we had. There is a focus here on artisan seasonal produce with the Tipperary Food producers featuring widely, including Nora Egan's fantastic Inch House black and white puddings in the Farmhill breakfast, Crossogue Preserves tequila and lime Seville orange marmalade, and the superb Boulaban ice-cream. Prices were very good and the brunch menu also had plenty of healthy options including a raw energy fruit salad, natural yoghurt with fresh fruit or honey, and granola with natural yoghurt and homemade fruit compote. All of the eggy favourites are there including Eggs Benedict on sourdough with Hollandaise sauce, scrambled egg and bacon with toast, as well as Croque Monsieur with streaky bacon, béchamel, Gruyere cheese and salad, and a savoury quiche with goats cheese and sundried tomato. Brendan kicked off with a whopping great puffed up pancake with lovely chopped fresh fruit and a little jug of maple syrup on the side. I had the soup of the day, which was a very good mushroom blend served with brown bread. They are doing a roast each Sunday, which on our visit was slow roasted loin of pork, two big tender tranches served with roast potatoes cooked using James Whelan Beef Dripping. I had an excellent tender Scarlet Heifer rib eye steak, which came with mixed vegetables and a side order of fries.
Their wine prices are very good also and we had a bottle of South African Culemborg, Chenin Blanc 2015. If you do feel like pushing the boat out a bit, treat yourself to the New Zealand 'Picnic' Riesling 2014 from Two Paddocks winery, which is owned by movie star Sam Neill and which features his grandfather, wine merchant Sydney Neill, on the label.