Restaurant Review - Angelina's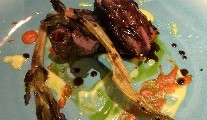 Thursday 21 January 2016
When a new restaurant has the food critics from three National newspapers whirling up to its doors for dinner on the same night, I guess you could say 
they expect it to be a happening place. It reminded me of when the TV character Frasier opened a restaurant and the show's pompous restaurant critic, Gil Chesterton, turned up saying "I don't normally review on the first night but I made an exception for you – and I brought all my critic friends!" We were all sizing one another up in the new Angelina's, stunningly located overlooking the Grand Canal on Percy Place. It was the latest launch by 
Paddy McKillen Jnr and Snr's Press Up Entertainment Group, who have, amongst others, the Clarence Hotel, The Dean, Peruke & Periwig, Wagamama and the Vintage Cocktail Club. Did it
 live up to these expectations?
 Yes, it did in all aspects except the promised 'bold Italian' food! However, the mere matter of food apart, Angelina's will be absolutely hot hot!
A stunning big L-shaped room with a bar and a pizza station, it has central semi-circle low-backed booths with prime window tables overlooking the water. Perhaps, with the food, some of the problems arose from the way the menu was written – a staccato list of ingredients, leaving a lot to the imagination, and which did not deliver. No cool restaurant worth its hipster salt would actually fully describe a dish, but there is a reasonable expectation that you should at least get the specified ingredients and not just a Banksy style colourful swish or blobs and dots. Ryan Bell, ex Shanahan's
 on the Green and more recently Beeftro, is Head Chef, while Sommelier, Mary O'Malley, is
 also ex Shanahan's. Pizzas will be popular and prices are fine at €12- €15. On the other hand, the five starters were all in double figures. Paul had 'beef braesola, Burrata, clementine, chilli honey' (€12), but didn't expect it to be on a hard toasted torpedo of unbilled bruschetta. 'Grilled octopus salad, scallion, celery leaf, baby potato with black aioli, basil oil' (€12), did have the decency to be what it said on the tin – a salad – and was good.
Mains (€22-€34) included chicken, venison, and beef fillet, with sides €3.95 – and this is where artwork over substance really came to the fore. Roasted hake, 'Nduja sausage, black 
olive and fried black kale (€24) sounded good. However, as I looked at the big lump of hake, sprinkles of kale, and a circular line of orange sauce, I could see no sign of actual 'Nduja or black olives. Meanwhile, Paul's 'lamb rump, coal roasted peppers, black olive dust, saffron mayonnaise' (€26) sported a well charred rump, with three long 'tentacles' of charred leek spreading across the plate, which resembled Joseph's Technicolour Dreamcoat – 'there was green and orange and yellow and...' It looked like kids had been let loose throwing the sauces at it. I returned my fish asking about the 'missing' items, but it came back tidied up again with fresh swirls and more orange sauce in a pot. It still looked crude. I was totally turned off by it, they took it back. Paul abandoned the lamb after a couple of bites as we both attacked a side of Parmesan Italian fries (€3.95).
Desserts at €7.95 were the 
biz and we fell on them. Lemon meringue, basil, raspberries and sorbet was pretty and refreshing, as was my white chocolate pannacotta with raspberries, shards of meringue and chocolate. With a bottle of delicious Linteo Inzolia 2014 (€30), bottled water (€5), our bill, sans main courses, came to €86.85.
Angelina's

55 Percy Place,
Dublin 4.

Tel: (01) 660-2262
angelinas.ie
lucindaosullivan.com
FIRST PUBLISHED IN THE SUNDAY INDEPENDENT