Restaurant Review - Tribeton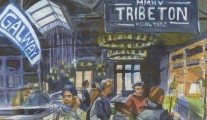 Friday 08 January 2016
As we face into 
the New Year, 
it becomes ever clearer that recessionary thoughts are 
in the past. New hotels are in
 the pipeline, glistening snow- white cars are everywhere, and restaurants are opening apace – with staff getting ruder! Dublin's restaurant scene is hopping but Galway has also come on leaps and bounds in the last couple of years. There was a time when the restaurants in Galway fell squarely into the category of feeding tourists they would never see again. Now, there is a whole new energy, a whole new food ethos, driven very much by the tireless
 JP McMahon who started out 
with the brilliant Cava Bodega, moving on to open the Michelin starred Aniar, as well as Eat at Massimo pub. He was also the driving force behind the Food on the Edge symposium last October, which brought outstanding chefs from all over the world, including Albert Adria, Elena Arzak, Tom Aikens, Nathan Outlaw and 
Clare Smyth, to the city. It was a tremendous success and people are already looking forward to Food on the Edge 2016.
Another man heavily involved in the Galway hospitality scene is Gerry Barrett, who gave the city the funky cool G Hotel and who also has the iconic Meyrick, which stands proud over Eyre Square.
Barrett's latest venture in the City of the Tribes is the vast, industrial warehouse style, gastrobar, Tribeton, set in what was known as the McDonagh building on Merchants Road. A former branch of Meadows & Byrne, with its big grand sweeping staircase and lift to the first floor bar, the building has all the 'Panto' drama of Are You Being Served, where 'Young Mr. Grace' might indeed pop out to inspect his domain. It's the longest bar in Galway, the décor 
is amazing, with high atriums looking down through open wells to the next floor – a bit like you see in prison dramas–think Bad Girls – and seating areas broken into various sections and styles. The food is casual and the dinner menu had sections such as 'Seafood Counter', sporting Galway oysters, prawn cocktail and mussels, while 'From the Grill' had sirloin, fillet, rib and rump steaks, and veal, with other mains, seabass, duck, burgers and salmon, all ranging from €9.95-€27.95. We visited for lunch, which had a more compact menu of soups, posh sandwiches and salads, a hamburger, a grilled chicken dish and fish'n chips.
We would perhaps have liked
a shellfish starter to kick off, but our only options, we were told, were mushroom soup (€4.20) and seafood chowder (€5.20), both of which were served in traditional black enameled mussel pots – the lids of which are normally used for discarding shells – and with 
a slice of bread on the side. Both were good and much welcomed after the drive across from Dublin in a storm. From the 'Sandwich Block', Brendan had the steak on garlic sourdough (€12.95) – a fine tender specimen of meat, with onion, lettuce, a fried egg and fries. I fancied a crab and smoked salmon salad on the menu, but unfortunately it was not available, so I went with a warm seafood salad (€11.95) with sautéed chunks of pan-fried hake, salmon, prawns and a sliver of smoked salmon, and a good mixed salad with sliced radishes, diced red and yellow peppers, red onion, green beans, tomato and quinoa.
We passed on the dessert
 option, which the young waitress
 told us was a baked goat's cheese
 cheesecake and, with a glass of house Tempranillo (€8) and a
 small bottle of water (€2.90), our bill with service came to €50.20. A great addition to Galway's lively scene – I can see it being packed at night.
Tribeton
1-3 Merchant's Road,
Galway
Tel:(091)421-600
tribeton.ie
lucindaosullivan.com
First Published in the Sunday Independent