Restaurant Review - Rage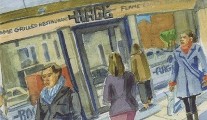 Friday 15 January 2016
By comparison to my local village 
of Monkstown, which has almost 
a thousand seats amongst its very many busy restaurants, the neighbouring village of Blackrock, surprisingly, hasn't had that many actual restaurants straddling 
its streets over the years. It has tended to be more pub grub and fast food eateries. However, it seems to be opening up a bit
 with the recent additions of 
Kenz Moroccan restaurant, The Counter, who do custom built burgers, and Rage a flame-grilled restaurant. Rage has just opened in what was the former Dali's restaurant, and the subsequent very short-lived Shutters, opposite the library and is hoping to fill this casual gap. The owners also have Reeves restaurant in Templeogue, but this new venture specialises
in flame-grilled food, including burgers, chicken, fish, ribs and steaks. It's previous incarnation 
as Shutters had a Hamptons feel and, while the layout remains the same, it's been given an urban, soft industrial, shake up.
We were there very shortly after it opened with friends Mary and Miko who, like many others, love a restaurant on the DART line 
for our regular Saturday night outings. Starters (€4.50-€7.50) included the ever-popular wings, nachos, deep-fried mushrooms, Caesar salad and penne pasta. Brendan kicked off with a bowl of tasty, soft and meaty, southern-fried chicken goujons (€6), with his choice of dipping sauce,
which was Cajun mayo. I had flame-grilled black tiger prawn skewers (€7), succulent, decent sized prawns interspersed with red peppers and onion, which was very good, with pilaf rice and a side of Cajun sauce. Mary passed on starters, while Miko had fried Brie (€6.50), a trio of rectangles wrapped in 'spring roll' pastry, topped with rocket and red onion salad, and served with a wild-
berry compote.
Mains (€12.50 - €24.50) include a flame-roasted half chicken served with sweetcorn and coleslaw, as well as beer-battered fish'n'chips. Tiger prawn curry is there, as is a grilled fillet of salmon with pesto mash, and the choice of eight burger varieties – one being vegetarian. Brendan had a flame-grilled 8-oz fillet steak, which was well priced at €24.50, given that it included all the trimmings of onion rings, rocket salad, a choice of sauces and one side order, which, for him, was black pepper sauce and fries. Miko went down the steak route too with an 8-oz sirloin (€18.50), again with all the trimmings and well priced. Mary was very happy with her big bowl of goats cheese, beetroot and walnut, salad (€10) topped with grilled chicken for just €2.50 extra. I had a great big flame-grilled 'Blackrock' burger (€14.50) skewered between a toasted bap with goats cheese, sliced red onion, tomato relish and smokey bacon, and served with a pail of delicious crispy fries.
Desserts (€5.50-€6) included Eton Mess, apple pie and cream, strawberry cheesecake, a chocolate brownie and a selection of ice-creams, but we resisted. There's a good kids menu too, for under 12s, with everything priced at €8, including penne pasta, butterflied breast of chicken, wings, sausages and a 6-oz beef burger. Included in the €8 is a choice of any side and a soft drink or milk shake, which should keep all the little folk happy. There are lots of wines by the glass and they also do 50cl carafes, which I always like to see. With a bottle of Les Fumees Blanches Sauvignon Blanc (€24.50) and a Babington Brook Shiraz (€24), our bill for four, with optional service, came to €152.50. All in all, the service was excellent, and the atmosphere was very pleasant and relaxing.
Rage,
65 Main Street, Blackrock,
Co Dublin.
Tel: (01) 205-6655
ragerestaurant.ie
lucindaosullivan.com
First Published in the Sunday Independent