Magnificent Irish cheese, a long way from plastic slices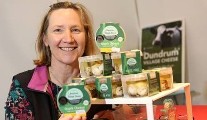 Wednesday 20 January 2016
Way back in 1962, the French president Charles de Gaulle, a man who didn't suffer fools gladly, famously said: "How can you govern a country that has 246 varieties of cheese?" He had a point, but when he made his historic six-week visit to Ireland in 1969, he must have had fromage withdrawal symptoms, for the height of what was on offer then was a lump of luminous orange cheddar or 'plastic' cheese slices. He would, no doubt, be proud that we now have so many artisan cheese makers on our little island because de Gaulle's grandmother, Julia, was descended from the McCartans of Co Down. He was 22 years old when she died in 1912, but not before she had instilled a love of Ireland, and a fighting spirit, in his psyche.
Despite the World War Two alliance, he had a testy relationship with the British, twice blocking the UK's EEC membership applications. Indeed, the Jesuit-educated de Gaulle visited Connemara and Kerry, declining an invitation to visit his relatives in Co Down because it was still part of the UK, and meeting them instead at Aras an Uachtarain during his visit to Dublin.
Some 40-odd years later, Irish cheeses can now hold their own against the best anywhere in the world. There is also now CAIS - the Association of Irish Farmhouse Cheesemakers - who held the inaugural Irish Cheese Awards last October, quite rightly presenting the first Lifetime Achievement Award to the amazing Veronica Steele, the much revered pioneer of the modern Irish Farmhouse cheese industry. She has been a huge influence, and inspiration to, the whole artisan cheese industry, having started out in 1976 in West Cork, making one of our finest and most famous cheeses, Milleens. A soft washed-rind cheese, it is made from the milk of Friesian cows grazing the mountains and pastures of the Beara Peninsula. It has a great depth and texture and there is nothing in a similar vein that comes up to it. milleenscheese.com. The CAIS Supreme Champion Award 2015 was taken by Mount Leinster Clothbound, made by Tom Burgess of Coolattin Cheddar at Tullow, Co Carlow, who has been making cheese since 1987.
Silke Croppe is another inspiring cheesemaker who has been producing her Corleggy cheeses in Belturbet, Co Cavan since 1985. "That's the year the I was born," her son Tom told me when I met him recently at Dun Laoghaire market as he ably manned their amazing cheese stall. "Mum is still the driving force and I'm slowly getting into it," he laughed. Their Cavanbert cheese is very popular as is their soft goat's cheese in restaurants. corleggycheese.com
Ardrahan is another well-known name in the cheese arena. This hails from the lush lands around Kanturk, north Cork, where, in 1983, Mary Burns and her late husband, Eugene, began making strong-flavoured cheeses. Initially, believe it or not, they sold most of their cheese in France, taking the ferry over and driving down to the incredible food market at Rungis, outside Paris. Made from the milk of their Friesian herd, Ardrahan has won numerous prizes over the years, including Supreme Champion at the British Cheese Awards. As well as the original Ardrahan cheese, which goes very well with one of my favourite wines, Gewurztraminer, they do a Smoked Ardrahan and a mild and creamy Duhallow. Along with Mary's son Gerald, they now also produce Ardrahan Lullaby Milk, which won best Artisan Food Award at the Blas Na hEireann Awards 2015. Facebook.com/ardrahan-lullaby-milk.
The beautiful market town of Kanturk, with its castle, twin rivers, the Allow and Dallow, spacious parks and big Gothic gable-fronted cathedral-style church, has always reminded me of central France. Kanturk, which means 'Boar's Head', is also the home of another legendary food producer, the fifth-generation traditional artisan butchers, McCarthy's of Kanturk. Jack McCarthy and his son Tim have received numerous awards for their meats and innovative charcuterie, such as their Ardrahan cheese and smokey bacon sausages, including two gold and a bronze medal from La Confrerie des Chevaliers du Goute Boudin in France, as well as having their black pudding served to HM Queen Elizabeth at the State Dinner at Dublin Castle on her visit to Ireland in May 2011. jackmccarthy.ie
In Kilkenny, Helen Finnegan has pioneered her super cheeses since 2004, when she made her first batch of Knockdrinna Farmhouse Cheese using a few simple household utensils and a small amount of goat's milk. Now, her cheeses are legendary, including the goat's cheese Camembert-style Knockdrinna Snow; Knockdrinna Gold, a semi-hard, smoked, nutty-flavour goat's cheese; and a golden-coloured creamy Irish Brie made with organic cow's milk from the Little Milk Company Co-Op of organic dairy farmers, with whom she has formed an alliance, allowing her to concentrate on production. knockdrinna.com
Finally, I come to one of the newest cheesemakers with a difference. We somehow or other associate cheesemaking with the countryside, but Edel Murphy is producing her Dundrum Village Cheese right in the heart of Dublin. Edel grew up on a dairy farm in Co Wexford, from which she sources her milk. "I'm the only cheesemaker in Dublin," she told me recently. Edel's quark cheese is flavoured with sea salt and garlic and is preserved in balls in sunflower oil - which is a bit of a bonus, because you can also use the oils in salad dressings or in stir-fries or dips. "It's really nice with smoked salmon and brown bread or stirred into pasta or in a salad. It's going well. I did the SuperValu Food Academy Programme in 2014, so it's stocked in some of the SuperValus and shops down in Wexford. I also won a Silver Award at Blas na hÉireann in 2015." Edel also does an Irish rapeseed oil. facebook.com/dundrum-village-cheese.
First published in the Sunday Independent