Taste Kilkenny offers the best of local artisan food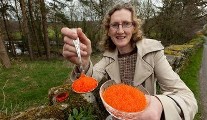 Sunday 17 January 2016
There is strength in numbers, they say, and to this end a new initiative (supported by the Local Enterprise Office) has seen a group of Kilkenny food producers band together under the 'Taste Kilkenny' brand to collectively market the county's food products in Ireland - and next year in Europe in potential markets, such as Germany. Between them, they have a diverse range of products. I recently spoke to some of them about their businesses.
Eat Trout is the mantra and retail name of Mag and Ger Kirwan's Goatsbridge Trout Farm, based at Jerpoint - where 800 years ago the monks of Jerpoint Abbey fished the flowing waters of the Little Arrigle river. The first fish ponds were created in 1961, further developed in 1990, and in 2010 a state-of-the-art processing and packaging facility was added. Mag Kirwan, supported by the wonderful Ger, is one of the best ambassadors of Irish food. She is innovative and absolutely tireless in promoting Eat Trout. I meet her at every food event there is. And I have to say, who else would have the gumption and courage to come up with a trout caviar produced in Ireland? Of course, as well as the caviar, they produce fresh, smoked and barbecued trout and a delicious new trout pate, which won both a Great Taste Award in the UK and a gold medal at the Blas na hEireann Awards. Consequently, Mag is very bullish about the food industry in 2016. "The pate is a product everyone will eat and a good way to engage non-fish eaters to eat good, healthy, Irish fish. "Our caviar sales continue to increase steadily, with most top establishments using it. We also have a new product in the pipeline to give us more presence in retail outlets. We work independently but also with Taste Kilkenny - and behind the scenes there are lots of exciting things happening in terms of production. We're planning a new farm and farm modernisations. We are also working on a very exciting sustainable organic-fish project over the next 18 months, so watch this space," says Mag.
Denis Molloy, of the Inistioge Food Company, told me how he and his partner Annaliese Fallon went into the food business. "We are in it by a fluke - and Annaliese is the brains behind this marinade. My background is horticulture and Annaliese's background is fashion. We moved to Inistioge four years ago - it's a beautiful part of the country. We had an orchard and our horses kept eating the apples - so to stop them doing that, we started making chutney and that's how we started in the food business. Annaliese went to Waterford Institute of Technology on a food-innovation course and she came up with this new healthy marinade using craft beer - we use Metal Man beer from Waterford and Bru from Trim."
"Our ethos is we're a small company, there are only two of us, so we use craft beers - as they too are small companies. The idea is to try and get small companies working together. Rural Ireland needs jobs and the only way to get them is for people to create them themselves."
Helen Murphy, of Moon Homegrown Beetroot, told me she had originally been in the hotel and catering industry and her husband is a chef. "We started growing beetroot at home and had too much one year, so we started pickling it. We thought we'd try it in a few stores, so we brought it to Ardkeen Stores in Waterford.
"It's a very mild pickle. You can taste the beetroot rather than the vinegar. The relish is lovely with cold meat or cheese." And remember, beetroot is good for your blood pressure!
Bernie Hennessy is based in The Rower, Co Kilkenny, where she produces Bernie's Farmhouse Desserts. "About 20 years ago, my husband said I had a great product in my sherry trifle. I lost my job in banking when the place closed down, so I started making desserts, firstly with the sherry trifle and also Malteser, Oreo and Mars cheesecakes, which are popular for birthdays.
"I supply into the food chain at the moment, including the Dunbrody Famine Ship in New Ross and a couple of local pubs. I've only just started and it's going very, very well at the moment."
Having produced a delicious organic 'honey' syrup from apples at their Highbank Organic Farm at Cuffesgrange, Julie and Rod Calder-Potts went on to create a range of superb ciders, including what Rod laughingly says they "rather arrogantly" called their Highbank Proper Cider, as it has no added sugar, no sulphites and is gluten-free.
They also do a heavenly Highbank Organic Single Orchard Medieval Honeyed Cider, as well as a non-alcoholic Driver's Cider from an early apple that is very low in sugar. On top of that, in December 2014, they added a spanking new copper still on the farm, from which they are producing Highbank Irish Orchard Spirit, as well as an Organic Apple Schnapps and organic Pink Flamingo and Apple Crystal Gins in the most fantastic bottles. Bottoms up!
Another face on the Kilkenny food scene is Helen Finnegan, who founded Knockdrinna Farmhouse Cheeses in 2004. And I can't forget Gerald Costello and Gabrielle of Costello's Brewing Company, who started brewing beer a few years ago.
Another sweet surprise from the area comes from chef John Whelan and Elora Boente of Made in Heaven in Graiguenamanagh, who have a fantastic range of enticing marshmallow products.
And you cannot mention good food and Kilkenny without referring to the Mosse family, who have spent seven generations in Bennettsbridge, where they started milling way back in the 1700s.
Today, they do so with The Little Mill Company, run by Robert Mosse and his father Bill. Aside from their artisan wholemeal flours, they also produce delicious mixes for home bakers.
For further information on Taste Kilkenny, contact localenterprise.ie/kilkenny
First published in the Sunday Independent