Our Latest Great Place To Eat - Siri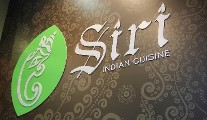 Tuesday 19 January 2016
Located between Dublin Castle and Christ Church in Dublin's City Center it is the perfect example of what a modern takeaway eatery should be. At Siri, they deal in exceptionally high quality, authentic Indian food prepared by top chefs with very impressive pedigrees within the restaurant industry. What you're getting is not just the quality you'd expect from a restaurant, it's the quality that would surprise and delight you at a truly great restaurant. The food they prepare is rich with authentic Eastern flavours and the creativity of their dishes is just so impressive.
From their menu, starters include dishes like aloo bonda, a lightly spiced mashed potato cake cooked in gram flour and herbs; Murgh tikka, chicken breast marinated with Indian spices and served with a tangy mint chutney; as well as lucknowi seekh kebab, skewered hand pounded lamb cooked in tandoor and served with mint and yoghurt relish. The last time we took out, so to speak, I had the Achari chicken wings, which were absolutely delicious, marinated in yoghurt, pickled sauce and grilled, whilst Brendan, who fancied something fishy, opted for the Konkani Jhinga, tiger prawns tossed with onion and sesame seeds, and garnered with crushed pepper and fresh lemon. Delicious!
From the mains, there's so many great dishes to choose from, such as their butter chicken masala, juicy and tender grilled chicken pieces in a rich creamy butter, tomato and fenugreek sauce; chicken lababdar, free range chicken with tomatoes, finished with cream and fenugreek and served with pulao rice; or their lamb jalfrezi, stir fried with onions, peppers and tomato, and flavoured with carom seeds. I love their malwani prawn biryani, tiger prawns cooked with aged, fragrant basmati rice and prepared with sweet aromatic spices, masala yoghurt and traditional raita.