Our Latest Great Place To Eat - Green Man Wines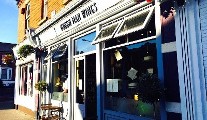 Friday 08 January 2016
Green Man Wines is a great addition to the Dublin suburb of Terenure, which, as a village, is not, it has to be said, one of the best of dining destinations in the city. It has been very warmly recieved by the locals and is extremely popular. The husband and wife behind this venture have been steeped in the world of wine, if you will forgive the pun, for many years. David Gallagher's career has seen him as manager of wine merchants, Berry Brother & Rudd, and more recently at Fallon & Byrne's cellar. Claire O'Boyle Gallagher is a member of Pascal Rossignol's, Kilkenny based, Le Caveau team, who import many great wines into Ireland. Claire was also a regular lecturer for the Wine Board of Ireland.
They specialise in wines made by artisan growers, many of whom farm and produce their wines organically, biodynamically and naturally. They also have a serious team of interesting food, wine and event professionals on board. Head Chef Sebastian Sanz has worked all over Europe, including at Ferran Adria's El Bulli, and more recently at Dublin's Las Tapas de Lola. He, we are told, is passionate about generating maximum flavour from excellent raw ingredients, and he certainly achieved this with a beef dish we experienced. The look and style of the shop is bang on, cool and contemporary, with a couple of small tables in the front window. The main wine bar dining area is through an archway, with a bright section to the front, and a more intimate area leading from it.
The food consists of charcuterie, cheese and smoked fish boards, and some really good tapas style cold plates. Smoked duck magret with bread featured, as did a half spicy chorizo sausage with olives and bread. Jamon Iberico, with picos, was there, while chicken liver pate, with bread and fig chutney sounded tempting also.
We ordered three dishes to share, including fuet, a cracking Catalan dry-cured pork sausage, served in one piece, with a bowl of lovely mixed olives and bread. A plate of beef fillet Tiradito proved a little stunner. Peruvian style, Tiradito is a bit like the Italian carpaccio or tagliata – beef lightly seared on the outside, sliced and served on the bluer side of blue! It is a very popular dish at the moment on the worldwide restaurant scene being pure protein, fat free, and perfect for the low carb bods. Here, the sliced beef, bathed in olive oil, had a wonderful flavour, and was topped with mixed leaves and a soft poached egg. Our third plate sported a quartet of large cold gambas, lined up 'spoon' style on a slate, intermingled with thin lemon slices, radish wafers, and lemon aioli. It was just perfect for a summer's evening.