Our Latest Great Place To Eat - Lock 13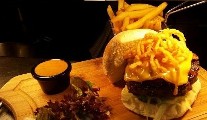 Thursday 07 January 2016
Set in a very pretty location and lovely for a day out, the warm, classic wooden finish of the interior is just so welcoming and exactly what we were looking for on the day, and with more than forty different craft beers, sourced both locally and from around the globe, the range of refreshments is sure to keep even the choosiest customers satisfied. As impressive as their range of beers was, we were both famished and, right then, only had eyes for the menu, which we eagerly examined.
Starters, on our visit, included their 'Soup of the Moment', which, at that moment, was spicy beef and tomato, served with homemade, gluten free, O'Hara's Stout brown bread; crispy potato skins with Dubliner red cheddar, streaky bacon and gluten free sweet chilli mayo; not to mention a St. Tola's goat cheese tartlet with red onion marmalade and a dressed rocket salad. I decided to try their Kildare Farm chicken liver pate, with aged brandy and a citrus marmalade which was delicious, whilst my dining companion opted for the creamy seafood chowder, served with homemade, gluten free, O'Hara's Stout brown bread, which was soon devoured.
For the mains there was plenty to choose from with crispy chicken goujons with house fries and a choice of bbq, garlic or sweet chilli dips; a classic chicken Caesar salad of Cajun spiced chicken, cos lettuce leaves, streaky bacon, croutons and a Caesar dressing; not to mention an authentic Thai green chicken curry with creamy coconut milk, chunky vegetables, basmati rice and a crispy poppadum. I considered trying the L13, 100% Irish, beef burger, which sounded seductive with crispy bacon, Dubliner red cheddar, mayo, relish, iceberg lettuce, beef tomato, tobacco onions, pepper sauce & skinny fries, but instead chose their Paddy Byrne's Craft Butcher's steak sandwich which was fantastic on a toasted ciabatta and served with tobacco onions, red onion marmalade, peppery rocket leaves, hand cut fries and my choice of garlic butter over a pepper sauce. Talk about hitting the spot.