White Horses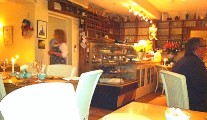 Proprietor
Christine Power, Geraldine & Angela Flavin
Address
Contact
Telephone: 024 94040
Email: whitehorses@eircom.net
Description
The legendary French gastronome, Brillat-Savarin, described a top gastronomic experience as being "good food cooked simply and eaten in surroundings in which everyone can feel at home." That is certainly a statement which could apply very well to the Whitehorses Restaurant in the little County Waterford seaside village of Ardmore. Whitehorses is the family run enterprise of three sisters, Christine Power, and Geraldine and Angela Flavin, who have this place running like a dream. Set in a former grocery shop, with double fronted plate glass windows, on the main street, the girls have created a very warm and vibrant ambiance. Rustic in style, with country pine tables, fresh country garden flowers, and lots of local beautiful Ardmore pottery mixed with splashes of Nicholas Mosse's colourful ware. Shelves are lined with books and bottles of wine, walls have colourful paintings. The old grocery counter is put to good use as the heart of the place, displaying alongside it a massive array of luscious Cordon Bleu style desserts which catch the eye the minute you cross the doorstep. All the boys congregate around this after dinner with their eyes popping out as they say, "I'll have a little of this….and a little of that"! I have had dinner in the Whitehorses on three or four occasions, it is always packed with regulars, and the food has always been ace.
We visited recently with friends and it was as good as ever. Starters run from €5.50 to €13.50. Mags had three big fluffy rondelles of Clonakilty black pudding (€11.50), each topped with a slice of grilled apple, set around frissee lettuce and drizzled with a grainy mustard cream. Mike had a bowl of superb chunky seafood chowder (€9.50) which was totally rewarding and wholesome, whilst Brendan had a tossed salad with blue cheese and crispy bacon (€11.50) which he loved. Coquilles Saint-Jacques (€13.50) for me were rich succulent scallops enveloped in a creamy cheese sauce, served in the shell, piped with mashed potato and baked under a hot grill until bubbling. This was a perfectly executed classic and absolutely sublime.
Mains run from €25 - €35 apart from lobster at €50 when available. Mike had Crispy Roast Half Duckling (€26) - what I call old fashioned duck – gorgeous crispy aromatic skin on the outside complemented by rich well cooked soft and succulent meat on the inside. Bathed in a caramelised orange and kumquat sauce, it was topped with cherry slices, sprigs of rosemary and fresh coriander. This was so good I took a picture of it and I am salivating as I write!! Mags had superb Dublin Bay Prawns (€35) tossed in roast garlic butter topped with a crunchy toasted dill crumb, whilst Brendan had a glorious golden hued Honey Roast Fillet of Chicken (€25) wrapped in prosciutto, sliced diagonally, stuck with a sprig of pretty pink flowers, and served in a rich sunny coloured saffron and lemongrass sauce. I had a superb Grilled Black Sole (€32) on the bone, perfectly cooked, finished with a beurre noisette, and topped with a marinated seared lemon slices, a sprig of rosemary and flowering chive. Main courses were accompanied by a delicious bowl of perfect stirfried peppers, broccoli, baton carrots, mangetout, Chanterelle and Shitake mushrooms, and a whopping scrumptious bowl of creamy gratin potatoes to drool for.
As to the aforementioned desserts (€6.50) - Charlotte Russe, Mississipi Mud Pie, Chocolate roulade, toffee and pecan nut….. if you have a sweet tooth you will be in heaven. We shared a selection plate which was just the perfect round off to the perfect meal.
Brillat-Savarin may be long since gone to Gourmet Heaven but the sisters are living proof that his observations are timeless. Check opening hours before going as they do not open every day in winter.