Pearl Brasserie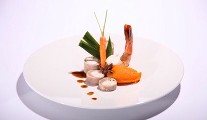 Proprietor
Kirsten Batt & Sebastien Masi
Address
Directions
Next door to the Merrion Hotel on Dublin's Upper Merrion Street.
Contact
Telephone: 01 661-3572
Email: info@pearl-brasserie.com
Website: http://www.pearl-brasserie.com
Description
When I first visited Sebastien Masi and Kirsten Batt's Pearl Brasserie in 2000 it was a stark modern basement which had been vacated by a celebrity chef in a hurry. However, the food was outstanding, as was the service and this really was s Pearl in the making. French born Sebastien Masi having trained from the age of 15 in the art of gastronomy came to Ireland, having worked in a couple of Michelin starred restaurants in Paris, to work in the nearby Restaurant Patrick Guildbaud. He then moved across St. Stephen"s Green to work in the now departed Michelin starred Commons restaurant. Word soon spread in Dublin of Sebastien's delicious food in Pearl and it is recognised now widely that Pearl is one of the best restaurants in Dublin. Always good food, always good service, always a buzz.
It is hard to believe that it is almost ten years in operation and Sebastien and Kirsten have done a major makeover on the restaurant turning it into a really stylish and comfortable location with a separate wine bar. I always say that no matter what, the French have a way with food. It is their profession, it is their life, whether they are cooking it or eating it!! This is serious food at really good prices. To start there will always be Duck Foie Gras. It might be a terrine or it might be pan- fried served on toasted brioche with rhubarb and strawberry compote. Fresh and Smoked Salmon Tartar is combined with a beetroot and horseradish dressing, Scallops and Dublin Bay Prawns are with crispy pork belly, apple compote and Star Anise jus. Warm Rabbit and Pear Terrine is with celery, candied walnut and mustard dressing whilst Fresh Crab Meat & Apple are with a celeriac and coriander remoulade and curry vinaigrette.
Mains might have pan fried Irish Rose Veal Loin with a morel sauce, asparagus tips, and a celeriac and potato Dauphinois, or roasted monkfish paired with smoked bacon tortellini, baby vegetables, and a squash veloute. Pan fried loin of lamb is with basil gnocchi, mini ratatouille, gremoulata coelette and tomato sauce, whilst aged pan fried Irish beef fillet is with cep polenta, pomme mousseline, red wine sauce and Roquefort ravioli. Game will always be available in season and there is also an interesting Vegetarian Menu with a choice of four starters and mains. Do try Sebastien's signature dish which is Squab Pigeon Rossini – cooked two ways – served with black truffle mash and pan fried foie gras. They do a great value two course lunch menu Monday to Friday with a la carte options also available. There is an extensive wine list and you couldn't do better than to take the advice of very approachable Sommelier Julien Hennebert who, apart from an extensive cellar of wines, has an excellent Sommelier's Selection at very reasonable prices, as well as a selection of half bottles. I have always been a fan of Sebastien and Kirsten's Pearl Brasserie.