Rongcheng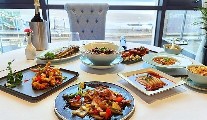 Proprietor
Address
Contact
Telephone: +353 (0)1 555-9991
Email: reservations@rongcheng.ie
Website: https://rongcheng.ie/
Description
When Rongcheng in Blackrock first opened its doors, I went along to see what was happening and unfortunately, despite the fab décor, the food didn't quite hit the mark. However, It's now solely under the baton of David Wang, one of the three original partners. I'd tagged my original review saying "this place needs to take a long hard look at itself" and, left to his own devices, David Wang certainly has.
The menus at Rongcheng are extensive, varied and much more exciting than the standard fare, including a Traditional Chinese Menu, A La Carte, Lunch and Early Bird menus.
The room is still lovely, the view magnificent, and I could certainly see it becoming one of the busiest restaurants around. Certainly it's David's ambition to make it into one of best Chinese restaurants in Dublin, or even in Ireland, he says.
Trawling through dishes on the Traditional Chinese menu such as cloud ear with onion in black vinegar; jelly fish with chilli oil; ox tripe with sliced beef; sea food in a clay pot; sea bass with pig's intestine; wild rabbit with ginger sauce, there was certainly plenty of interest. Yukio kicked off with Conch in XO sauce, a large sea snail mollusc, which are hugely popular in the Caribbean, Australia, Italy, and other places, their big colourful shells sometimes also being collected, as travel trophies to put on the bathroom shelf! It certainly was a winner, the meat sliced thinly, quickly stirfried and smartly surrounded by a ribbon of pickled cucumber. King prawns with salt & chilli and a trio of grilled Irish king scallops napped with a black bean sauce both, from the ALC, were equally good.
Our respective choice of mains were also from the Chinese menu, Yukio's being soft shell crab, the crispy crustaceans tossed with dry spices, spring onions and chillis which she loved – between gasps of birds eye chillis. Ian's shredded chicken came with hot garlic sauce while I had steamed whole Black Sole on the bone which was perfectly executed and delicious. Boiled rice, egg fried rice and noodles made up the sides. To finish, I had a slice of lovely French pear tart and Yukio had a sesame seed covered sweet potato cake.
The eponymous Rongcheng by the way, is in the Eastern coastal province of Shandong, where the chef team come – and indeed is also the home of China's beautiful pandas.