Armelle's Kitchen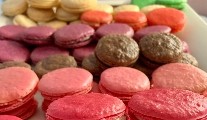 Address
Contact
Telephone: +353 (0)45 480 697
Email: armelleskitchen@live.ie
Website: https://www.armelleskitchen.com
Description
I first met Scotsman Kenny Rorie in a Co. Dublin market when, attracted by the fantastic pattiserie on display, he proudly showed me pictures of the huge 1.7 meter 'tower' cake which had been made for his marriage to his French wife, baker Armelle Siomboing. Macaron tower cakes are traditional in France but this was made in the shape of the Eiffel Tower with 310 macarons, which they made themselves, affixed with cocktail sticks on a metal tower frame made by Armelle's dad.
Armelle and Kenny expanded in 2017 from a micro business selling their fantastic cakes from home to their new premises in Kilcullen, Co. Kildare. Now, people travel miles for their French pastries, macarons and cakes, but also cakes for weddings and special occasions, and it wasn't long before they expanded to being a Patisserie and Traiteur.
They post their menus of food-to-go ever week on social media, and no doubt many a hostess in Kildare will have claimed credit for cooking one of Armelle's fabulous dishes. They also do delicious family style dishes to go such as boeuf Bourguignon with mashed potatoes, shepherd's pie, vegetable lasagnas, pork and turkey parcels with red cabbage, broccoli and a creamy Champagne sauce. Their seafood chowder is delicious as is their salmon and prawn lasagna and their beef, chorizo and goat's cheese lasagna.
There's always something to tantalise you at Armelle's Kitchen.