The Saddle Room @ The Shelbourne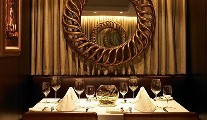 Proprietor
Address
Contact
Telephone: +353 (0)1 663-4500
Email: ak.dubdt.gstsrvs@autographhotels.com
Website: https://www.theshelbourne.com
Description
The 5-star Shelbourne Hotel on St. Stephen's Green is at the heart of Dublin city, known far and wide as a beacon of grandeur, comfort, style and, of course, superb dining, and adored by Dubliners. Way back in the 1970's The Saddle Room at The Shelbourne was the place to be, and the only thing that has changed since then, is that it's even better today.
First off, grab a cocktail or a glass of bubbles recommended by their award-winning sommelier in their fabulous No.27 Bar & Lounge, which is a perfect place to see and be seen amid the plethora of well-known faces.
Arriving at The Saddle Room itself is like walking into the most elegant beautiful period movie set you can imagine, with a timeless decor and atmosphere that really does take your breath away.
They do a great breakfast menu here with breakfast cocktails and a great juice bar menu too, but if you want the perfect eggs benny or you love good pancakes then you're simply going to love it.
As for the dinner menu, there's a wide array of classic and contemporary dishes certain to have you salivating with anticipation. For the starters, think duck consommé with confit leg ravioli; wild game terrine with smoked beetroot and pear chutney; of maybe some seared Bantry Bay scallops with curried parsnip.
The mains include dishes like cornfed chicken supreme; a fillet of pan-seared Clogerhead turbot; or a loin of Wicklow venison, but the real stars of the show are their trolley classics, with fab meaty offerings like a 28-day aged 500g Hereford beef chateaubriand for two, carved tableside and served with field mushroom, watercress, bearnaise sauce and roast garlic. If you're more of a fishy aficionado, then go for the pan-seared Dover sole 'Meunier with baby capers, croutons, samphire and lemon segments.
Also available, with 24 hour's notice, is their picture perfect, utterly delicious beef Wellington of aged 500g Angus beef, cooked pink, and served with pomme Anna, caramelised cauliflower puree and a Madeira jus. Simply divine.
If you want to push the boat out a little further they do a 50g Perle Imperial (Huso Dauricus) caviar dish to share, depending on market availability, served with Melba toast, egg, parsley, red onion and sour cream.
Naturally they have a great selection of decadent desserts set to tempt you, but people really go crazy for their classic lavish cheese trolley.
If you fancy an after dinner drink, or a drink at any time in fact, head for their popular Horseshoe Bar. Full of life and old Irish vibes, it's a great spot to meet friends or family for a pint or a cocktail in a warm intimate setting.
The Lord Mayor's lounge to the front of the hotel is luxurious hub serving wonderful afternoon teas (do book) and in the evening serves a more casual menu including their signature Club Sandwich, Kilmore Quay plaice & chips, a brilliant mini sea-food platter, the Shelbourne flame grilled burger, and a half-lobster and fries.
If you fancy yourself a connoisseur, then slip away to the 1824 Bar, discreetly located at the top of the grand staircase, and lay your eyes upon a fantastic selection of tipples at this top-shelf only bar.
Even if you don't visit the 1824 Bar, any visit to The Shelbourne Hotel is a top shelf experience – the food, service and style are incomparable.