The Fish Box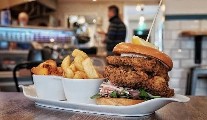 Proprietor
Michael & Patrick Flannery
Address
Directions
Across the road from St. Mary's Church.
Contact
Telephone: +353 (0)87 052-6896
Email: fishboxdingle@gmail.com
Website: http://www.thefishboxdingle.com
Description
Dramatically beautiful, Dingle has long since been a hotspot for holidaymakers and foodies alike, and when it comes to great seafood in this popular seaside town, the Flannery family are legends. Dad, Michael, has been a fisherman since 1975, operating his own trawler for many years. However in recent times, sons Michael and Patrick have stepped up to the plate establishing their own cool seafood bar, The Fish Box, which, since its inception, has been a big hit with touring foodies and Dingle denizens alike.
Located on Green Street, just across the road from St. Mary's Church, it's a bright and welcoming space, with a subtly nautical theme, by way of its blue and white colour scheme and wooden 'deck' below your feet. You can order your food to take away, and feast al fresco down by the water's edge, or grab a table indoors. With our feet already walked off us, friend Mary and I chose the latter.
The menu at The Fish Box leaves you utterly spoiled for choice when it comes to delicious seafood fresh from the nets of the family trawler. For a light bite, grab a prawn cocktail with homemade Marie-Rose sauce, or a bowl of hearty seafood chowder. They also do great open sandwiches on a bed of fresh salad, with your choice of prawn, smoked salmon or a mix seafood salad.
On our visit, however, following a day out and about on the Dingle peninsula, our appetites were demanding some bigger bites. From a menu that included monkfish goujons, deep-fried Cajun spiced calamari, and Dingle Bay fish n' chips – all of which came with homemade chips – Mary decided to try their deep-fried tempura battered prawns with a side of the aforementioned fries. Crispy but succulent inside and absolutely mouth-watering, she was in fishy heaven. I however went for a fresh and zesty Cajun salmon and pineapple burger garnished with pickled cucumber and lemon mayo in a brioche bun. Full of flavour and with an added Cajun kick, it was just what I needed.
They do lots of great daily fish specials too, with the likes of gorgeous flambéed scallops in brandy and garlic butter; or pan-fried turbot with garlic potato and ratatouille.
Delighted with our meal, and having shared a delicious slice of coffee cake, their dessert of the day, we raised anchor and set sail for our nearby accommodation.
If you love good seafood, The Fish Box is not to be missed. Fresh, flavoursome food, in a smart welcoming atmosphere in one of Ireland's favourite spots.