Daata Tandoori - Bray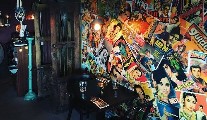 Proprietor
Fahid Saleem - General Manager
Address
Contact
Telephone: +353 (0)1 286-3006
Email: info@daata.ie
Website: http://www.daata.ie
Description
As most of my readers know, I absolutely love good Indian, Pakastani or other Asian food, and, when I find a restaurant that can deliver on the authentic flavours and spices, I just keep wanting to go back. Having already visited Daata in Greystones, and loved their traditional cuisine, I had the perfect excuse for round two at their seafront restaurant in Bray.
The atmosphere at Daata is contemporary and cool, but with lots of retro call backs to the classic look. Think antique decorative touches along with old Bollywood-style movie posters presented like a pop art collage. Rich furnishings, but an airy open room.
To start, the Small Bites menu had a great variety of dishes to sink your teeth into, from a spicy battered spinach and chilli pakora to the longtime fave of onion bhaji. Slow-cooked lamb chops were there in garlic, turmeric and chilli, as were some tender chicken wings grilled in garlic, ginger, pepper, lemon, rock salt and mustard oil, but I was in the mood to try the tandoori prawns from their clay oven. Perfectly seasoned in a deeply delicious blend of Indian spice, they were superb. Rena went for a classic lamb seekh kebab which she thoroughly enjoyed.
For the mains, all of which are served with pilau rice or plain naan, it was just so hard to choose. There's lots of familiar and beloved dishes on the cards with chicken tikka masala, tandoori chicken or a biryani, which could be had with a choice of meats, along with some less well known dishes like Lahori spiced lamb, slow-cooked in ginger and Karahi masala and served on the bone with crispy onion on top. I seriously considered the Mughali prawn dish, cooked with cashew nuts, tomato, fenugreek and a touch of cream, but, having already gobbled my share of gambas, I went instead for their signature Famous Afghani Chicken which was just as spicy and delicious as the menu had promised – a creamy chicken curry with tomato, fenugreek, black pepper and a hint of lemon. A devilishly hot garlic chilli chicken dish with fresh tomatoes, ginger and crushed chillies for Rena, went down a treat as she joined me in a foodie inferno.
Utterly delighted with our dinner, but hard aground, we deserted the dessert menu in favour of two coffees before making our exit. However, I know for a fact that their Tandoori Halwa is divine and a rare find on menus.
If you're like me, and find it hard to choose from so many mouth-watering options, they also do a great sharing platter for one/two people with grilled lamb chops, seekh kebab, Afghani tikka, chicken wings, tandoori prawn, naan, mint chutney and chana chaat. Served with a glass of wine or a beer. They do a great early bird menu from 5pm-6.30pm Monday to Saturaday, and they deliver too.
So, what are you waiting for? Make a date with Daata.