The Enniskerry Inn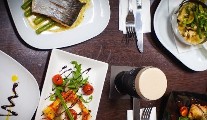 Proprietor
Address
Directions
In the centre of Enniskerry Village.
Contact
Telephone: +353 (0)1 273-4992
Email: bookings@theenniskerryinn.ie
Website: http://www.theenniskerryinn.ie
Description
Coming back from a day out in Wexford, myself and one of the gals were more than a tad peckish and, having gotten a tip from a foodie friend who lives nearby, we decided to head for the Enniskerry Inn in Co. Wicklow. Set smack dab in the middle of the pretty village, which is perfect for family days out, The Enniskerry Inn is a perfect example of modern meets classic with plush contemporary seating and a Farrow & Ball style colour scheme, meshing with hardwood floors, stone wall features and a stag's head over a very attractive fireplace. The beer garden here is very nice also, perfect for some al fresco fun on a sunny summer's day, and they have some great events and live music throughout the year.
Grabbing a nice corner table on a banquette, we eagerly surveyed the menu which had plenty to choose from for the starters with homemade chicken liver pate with fig jam, mixed salad and toasted ciabatta, a Cashel blue cheese and poached pear salad with mixed leaves and toasted walnuts to a retro prawn and crab cocktail which sounded divine with its butter poached king prawns and Dingle Bay pinchers. I to'd and fro'd a bit, eventually eschewing the Irish smoked salmon in favour of some very tasty wild Wicklow venison sausage served up with saute potatoes and a wild mushroom jus. Meanwhile, my pal across the table indulged in some finger lickin' chilli, lime and ginger chicken wings.
For the mains there was pan fried hake being served with crushed potatoes asparagus and a baby caper and tomato dressing, a chicken fusilli pasta dish with green asparagus, roasted red pepper, cherry tomato, spinach and pine nuts, as well as a summer vegetable risotto. For the mad-about-meat amongst us, there was an 8oz homemade beef burger on a brioche bun with salad, bacon and melted cheese, a whiskey sauce and a side of fries; a pork tasting plate; and, my friend's choice of a succulent 10oz rib-eye which was flanked tender stem broccoli, roasted mushroom & onion puree, crispy potatoes and her choice of a pepper sauce. I, however, went out to sea with their fab Enniskerry seafood platter with a fishy-delishy selection that included fresh smoked salmon, dressed crabmeat and smoked haddock fishcake, served with brown bread, a homemade potato salad and mixed leaves.
Not ready for evening to end just yet, we happily accepted the dessert menu. We were both torn between the same two puds, crème brulee served with a chocolate and almond biscuit and the homemade profiteroles with a scoop of vanilla ice cream, so we ordered both and shared the two delightfully decadent dishes.
Having had our revitalising repast, we hit the road back to Dublin, lest our hubbies get worried, however the The Enniskerry Inn is also a B&B, and a great base from which to explore Ireland's garden, from the awesome Powerscourt estate to the magnificent wilds of Glendalough.