Brasserie On The Corner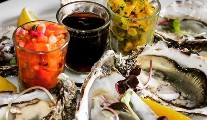 Proprietor
Eimear Killian - General Manager
Address
Directions
A short Stroll from Eyre Square & Shop Street.
Contact
Telephone: +353 (0)91 530-333
Email: info@brasseriegalway.com
Website: http://www.brasseriegalway.com
Description
The City of the Tribes has some really fantastic eateries and restaurants these days, and one of their best is undoubtedly Brasserie on the Corner. With a lovely atmosphere, plenty of buzz, excellent service and some really good food, It's tough to beat. Specialists in steak & seafood, the ethos here is quality, with a big focus on local suppliers. They also have an impressive wine selection with more than 40 to choose from, sourced mostly from boutique family owned vineyards.
When I visited, starters included a smoked duck ham & duck confit leg parcel with orange gel, baby leaves and a pomegranate salad; pan fried scallops with a raw cauliflower salad, apple and fresh herbs; as well as a salmon tasting plate with lumpfish caviar, pickled baby beet and Galway goat curd. Himself went for the Brasserie seafood chowder, while I went for the confit chicken leg and fois gras terrine with pickled wild mushrooms and an apricot puree. Both were delicious.
They also had a range of tasty looking brasserie boards, one of which passed us on its way to another salivating diner. It looked fantastic and was filled with all sorts of fishy delights!
Their mains were broken down into Sea, Land and Earth. From the Sea they had hake with peperonata, chargrilled provencale veg, olive tapenade and a basil oil; but I quite fancied the sea trout, which arrived with tasty roast garlic baby potatoes, spinach and a mussel meat & fish fumet. It was pure heaven; fresh and bursting with flavour. From the Land they had Manor Farm Irish chicken supreme; a medium cooked lamb rump with an almond and pistachio crust, caper and olive salsa, veg and a lamb jus; as well as a 16-hour slow-cooked duck leg. Their Earth section caters for all the veggies out there with dishes like risotto with butternut squash, ricotta cheese and toasted hazelnuts; and regular vegetarian evening specials.
Over the page we discovered Brasserie on the Corner's 'Design your own Steak' section in which you can not only choose the cut you want, (be it sirloin, rib eye or fillet) but also how it's cooked, what sauce it's prepared in and what temperature it's served to you at. Brendan couldn't resist and went for a 10oz sirloin char-grilled in a whiskey pepper sauce and served medium pink with a hot centre. Believe me when I say, he enjoyed it thoroughly.
As full as we were, we couldn't resist the desert menu which featured a sticky toffee pudding with a treacle toffee sauce and honeycomb ice cream; an apple Madeira cake with vanilla ice-cream, cinnamon cream and a salt caramel sauce and also a selection of Ice creams. We decided to share an undoubtedly decadent warm chocolate brownie with a scoop of chocolate ice-cream and chocolate sauce. A perfect end to a perfect meal.
By the way they also have great Early Bird and pre-theatre menus.