The Seafood Cafe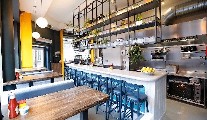 Proprietor
Address
Contact
Telephone: +353 (0)1 515-3717
Email: cafe@klaw.ie
Website: http://www.klaw.ie
Description
You would have to go a long way to find a man as passionate about seafood as chef and restaurateur Niall Sabongi. And he has brought the fruits of the sea to Dublin city centre in a cool, casual way that reminds me of the Mercado San Miguel in Madrid. Chatting, sitting on high stools, breaking open shells and eating with your fingers, having a plate and then ordering another – that's how Niall's amazing array of fresh shellfish dishes are meant to be enjoyed. His aim has been to make sea food less 'posh' and more accessible.
The latest addition to the trio of cafes is The Seafood Café on Fownes St Upper in Temple Bar. It has a very attractive casual cool vibe but with just that little hint of the high end, which is made even more apparent by the quality of its fishy fare. Situated on a corner, city life buzzes by while you sit along their diner-style counter-top or at one of the raised benches and pour over the menu. Oysters are the speciality here and are served naked, dressed or torched. All are proudly Irish, sourced from Waterford, Galway Bay, Connemara and The Burren.
Popping in for an afternoon bite with a friend, I was looking forward to some really good seafood, and I wasn't disappointed. The menu had lots to offer with great shellfish like grilled local lobster either halved or whole lobster, whole grilled Dublin Bay prawns, mussels and crab. Besides from great shellfish though, there's a lot more to tickle your gills, such as a fire grilled whole seabass, linguine with wild clams or their East Coast fish and chips (fish changes daily) served with tasty hand cut fries. If it's a smaller bite you fancy they do some great snacky food like salt cod croquettes, Dublin Bay prawns and wild mushrooms on toast, as well as a great smoked Pollock and cockle chowder. I went for Klaw's Lobster Roll, which was fab fresh lobster meat served in a brioche bun with chips and salad. It really was top notch and so filling that it kept me going all day! Across the table, my dining companion was torn between the dressed local brown crab and the Killary Fjord moules mariniere with fries which eventually won out and was a thoroughly enjoyed.
Not ready to abandon ship just yet, we decided to order a couple of desserts and to share them. My choice of chocolate fondant with vanilla bean ice cream was a treat of a treat, whilst my guest's torched lemon tart was simply sublime. Utterly satisfied and undoubtedly hooked on Sabongi's seafood we paid our bill and cast off, eager to return again soon.
As we left, it was obvious that the people occupying the surrounding tables were from all over. I could hear Irish, American, Brazilian and Italian people – all united by the love of great Irish seafood in a friendly, trendy space.
Do pop in when you're next in the centre of Dublin!