NoLIta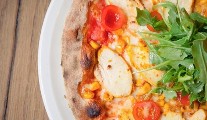 Address
Directions
Situated on Dublin's South Great George's Street.
Contact
Telephone: +353 (0)1 478-1590
Email: bookings@nolita.ie
Website: http://www.nolita.ie
Description
I love the notion of good restaurant-style food being served in casual surroundings, so do many others, which is why Michelin starred chefs worldwide are rapidly turning to this ever-growing market. Nolita is the Italian inspired sibling of Cafe en Seine and, it's a fabulous space in a fabulous building, with well designed seating areas, a fantastic bar with great cocktails, a visible kitchen, and a mezzanine level for bands and entertainment.
Having thoroughly enjoyed myself in this happening hotspot in it's previous incarnation, Soder + Co, I was eager to return, and, when friend Rena was about town and available for lunch, I seized my opportunity. The menu, which offers an assortment of fantastic food, with the an Antipasti selection that includes crostini, bruschetta, as well as calamari gritty with Harissa, lemon and saffron aioli with a celeriac and apple remoulade. I helped myself to a portion of Nolita's meatballs, fine meaty chunks of Irish pork & beef and spicy sausage with a tomato sauce, smoked mozzarella and basil, whilst Rena tried the roast butternut squash arancini, which she found delicious with smoked provolone, Parmesan and a panic & thyme crust.
Moving on, the mains offered lots of tasty dishes, such as an Irish & Italian selection of cured and smoked meats and cheeses, Bietole, which is a salt baked beetroot dish, as well as a great selection of pasta faves. They also offer a great pizza menu with plenty of familiar faces as well as some that are a bit fresher. The classic margarita and fungi are there, along with a peri peri pizza, or their 'Greco' with its Bianco base, baby spinach, feta, Kalamata olives, red onion, courgette and cherry tomato.
Rena went for a delicious tagliatelle dish with slow-cooked braised beef and red wine, topped with pangrattato and parmigiana, whilst I enjoyed a few slices a Della Case pizza with porcini mushrooms, scamorza cheese, sausage and a truffle sauce.
Italian desserts are often the best of the best, and we soon found ourselves powerless to resist the call of pies and puds. The menu offered tasty treats like cannoli, tiramisu or a decadent sounding panda cotta with vanilla, cherry jelly, fresh cherry and crumbed meringue. I plummet for the Amalfi lemon tart which was utterly moreish with it's mascarpone ice-cream and summer berries, whilst Rena had a fantastic espresso zabaglione with amoretti biscuit and a pistachio tiule.
Delighted with my visit to Nolita, and sure to be back again, we made our exit.