Brambles @ National Museum of Ireland - Country Life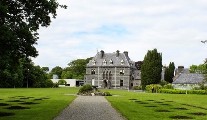 Proprietor
Address
Directions
On N5, 8km outside Castlebar. Clearly signposted
Contact
Telephone: +353 (0)94 928 9972
Email: customerservice@brambles.ie
Website: http://www.brambles.ie
Description
It may have started with one small cafe, but 20 premises later, Brambles has become a household name. No two quiches will ever be the same, say Ciaran and Maeve Reid, because everything is made by hand. In fact, the only things they buy in are soft drinks and crisps. What started out as one cafe in the old Dundrum Shopping Centre now employs 200 people across the 20 locations of their hugely popular chain of Brambles cafes - from the National Museum of Ireland in Kildare Street to Dundrum Town Centre, from Russborough House in Wicklow to the Jervis Centre, right up to the National Museum of Country Life in Castlebar, Co. Mayo.
At Brambles, their focus is on food that is both wholesome and homemade, without all the additives and nonsense that can be so hard to avoid these days. They do really good dishes such as chicken and broccoli, really good quiches, home-cooked ham, home-cooked turkey, home-cooked chicken; superfood salads and, they cook everything themselves because they know they can stand over it proudly.They are of course conscious of the healthy eating trend too offering plenty of options that won't leave you in fear of busting the scales, and they've also been into gluten-free foods for quite a long time.
The most recent addition to catch my attention is their Brambles @ the National Museum of Ireland – Country life, in Castlebar, Co. Mayo, where, in the usual Brambles fashion, they are offering their customers a fantastic array of delicious cakes and sweet, mouth-watering delights along with all sorts of other fantastic, fresh desserts that taste just as good as they look. Believe me!
Far from being all about sweets and treats, at Brambles they offer a fab selection of great savoury choices such as simple or gourmet sandwiches like a carved honey ham on wholegrain with beef tomato and mixed leaves or smoked salmon with mayo topped with red onion and iceberg lettuce leaves. They also have a great variety of quiches and pies. On our visit we were popping in for some respite having spent the last few hours on the road. Only in search of a snack I had a cup of coffee, a tranch of delicious ham and cheese quiche, and a cherry scone, whilst himself tucked into a healthy portion of Guinness pie, before ordering a slice of sinfully delicious chocolate cake.
Every time I stop at a Brambles Café I am delighted by the fantastic presentation of the food and even more so delighted upon tasting it. No matter which branch you visit you will find the same high quality food and service that one might expect from a single, family owned labour of love.
You simply won't beat Brambles for quality and care.