Mykonos Taverna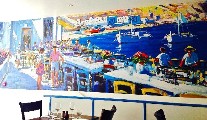 Proprietor
Adam Kritidis & Eri Shore
Address
Directions
Beside the Olympia Theatre on Dame Street, Dublin 2
Contact
Telephone: +353 (0)1 561 3745
Email: mykonostaverna@dublin.com
Website: http://m.greekrestaurantmykonosdublin.com
Description
The notion of a lovely al fresco summer supper had certainly appealed, but the artic weather on the day, called for an indoor venue offering protection from the elements! We spotted the perfect answer; Mykonos, a Greek Taverna on Dame Street, with its wall-to-wall colourful murals of diners on a terrace overlooking fishing boats in deep Aegean blue waters. Greek music was playing, Greek waiters were on the floor, there was a large menu of mezze style dishes – it was Shirley Valentine style escapism at its best.
On sitting down with my friend Paul, I discovered that it is the new venture of Adam Kritidis, who originally set up Corfu on Parliament Street (which is now under new ownership), and Eri Shore, who will be familiar to regulars of Residence, on St. Stephen's Green. Eri, who is from Athens, told us he had always wanted to set up his own restaurant, and Mykonos, which had only opened a few days before, is the result.
The menu majors in 'mezedes', with an extensive range under the categories of salads, dips, legumes, fresh fish, meat, vegetarian, saganaki and homemade pies. Scattered throughout that broad spectrum, were Greek favourites such as spanakopita, a savoury pastry filled with chopped spinach, feta cheese, onions and seasoning. Fresh mussels are with homemade tomato sauce, extra virgin olive oil, feta cheese and oregano, while artichokes are cooked on a charcoal grill with evoo and lemon juice. It's a great place for vegetarians with their selection of giant or green beans cooked in casseroles with garlic, onions, and tomato, plus their vegetarian vine leaf dolmades, stuffed with long grain rice, fresh herbs and seasonings. The fresh fish selection included chargrilled octopus, fresh prawns with garlic, white wine, olive oil and lemon juice, as well as sardines and whitebait. If you want to go down the more 'solid' route, mains include meat or vegetarian moussaka, a mixed grill platter, lamb chops, the popular Greek stalwart of Kleftiko – a baked lamb dish, which is melt in the mouth tender. The steak man is also catered for by way of an 8-oz sirloin or a 12-oz T-bone with all the trimmings.
Making up our own mezze selection, we kicked off with a dish of authentic hummus, mashed chickpeas mixed with Greek honey, fresh lemon juice, extra virgin olive oil and fresh garlic, which was a far cry from the supermarket variety. We mopped it up with light pitta bread, before turning our attentions to a trio of vegetarian dolmades and a dish of beetroot salad topped with feta cheese, olive oil and basil.
Our next three dishes were from the saganaki section, which refers to small dishes cooked in a two-handled, heavy, frying pan. Saganaki prawns were delicious in a tomato sauce with feta and kefalotyri cheese, topped with ouzo and evoo. Scallops, were also excellent, cooked in the same manner as the prawns, and served in a scallop shell. What really surprised us, and a dish we loved, was a traditional dish kefalotyri saganaki dish. Kefalotyri is a Greek style parmesan cheese, and in this dish a good block of the cheese is dredged with flour, fried in the pan with olive oil, and flamed at the table with ouzo. With these, we also had smashing rocket salad which sported grilled halloumi, avocado, onions, tomatoes, evoo and balsamic.
We rounded off by sharing baklava, a traditional sweet filo pastry dessert, layered with chopped nuts and soaked with honey or sweet syrup, which is popular all over Greece and the Middle East. This baklava came with a scoop of ice-cream..
All in all, thoroughly enjoyable.