The Pavilion at University of Limerick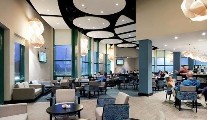 Proprietor
Address
Directions
Located in the North campus of the University of Limerick on the banks of the Shannon.
Contact
Telephone: +353 (0)61 213 369
Email: pavilion@ul.ie
Website: http://www.pavilion.ie
Description
The Pavilion, at the University of Limerick is one of the best multi purpose venues in Ireland. Wonderfully modern and fantastically equipped, The Pavilion is proudly operated by Pat O'Sullivan's Masterchefs Hospitality, who have become a major force in Irish corporate and events catering, offering a wide range of services that are both dependable and impressive.
Pat O'Sullivan is not only the driving force behind Masterchefs Hospitality, but also the Café Noir chain as well as the Artisan Food Factory Ltd. He is a stickler for quality, in every aspect of his businesses, and has made his name on the superb standards he insists upon.
The Pavilion is equipped with a fantastic function and meeting area, two very modern conference rooms with capacities of up to 120 delegates, as well as a very stylish and inviting bar and lounge, with panoramic window views, and the added bonus of a very attractive outdoor veranda, which, in summertime, hosts some of the best BBQ parties around. Their facilities are perfect for a wide range of events, like weddings, corporate and private events as well as high-end outdoor affairs.
Throughout the day, they serve a delicious assortment of handmade pastries, cakes and tarts that, like all food served at the Pavilion, are prepared using only the freshest and finest local ingredients possible. At the Pavilion, they are very proud of their locally sourced meat and seafood and feel that it is important also to support local artisan suppliers. The result is great food. Their daytime carvery, which is available daily, has quickly picked up a reputation for being top notch, with plenty of repeat customers returning to the Pavilion licking their lips.
In the evening, they always have a great a la carte menu, which also offers great value. They do starters like warm smoked duck and brie crepes with mixed salad leaves and hazelnut dressing; Nicoise and smoked salmon salad with seasonal leaves, green beans, olives, tomato, egg, potato and sauce vierge; not to mention their golden fried calamari 'dore' served with mixed leaves, tartar sauce and jalapeno relish.
Mains include a top notch Ahearne's 10oz minced beef burger with a choice of bacon, cheese, tomato, salad and fries, or sautéed mushrooms & onion with pepper sauce, salad and fries, or a chicken supreme wrapped in Parma ham and served with Spanish chorizo and fresh garden peas. Their Irish prime sirloin steak with side salad, potato gratin or fries and a choice of seasoning, is a favorite, as is their chicken and bacon carbonara in a light white wine sauce with parmesan shavings and garlic bread. Crispy duck breast, always a favourite of mine, is on a bed of stir-fry vegetables with plum sauce served with noodles or rice, whilst a king prawn Thai green curry is another popular choice. Check out their 'Catch of the Day' or maybe you will fancy traditional fish 'n chips with the works. Another great dish is a trio of grilled Irish lamb, a lamb skewer, lamb sausages and lamb cutlets, with mushroom and onion compote, fennel salad and almond flax with fresh mint relish.
Those with a sweet tooth will know that Pat O'Sullivan never disappoints when it comes to desserts – think of homemade luscious chocolate brownie with chocolate sauce, or homemade apple pie with vanilla icecream, or maybe just some lovely ice creams with chocolate sauce – we all love that, don't we?