Eastern Tandoori Galway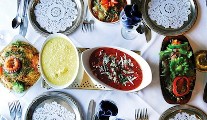 Proprietor
Address
Directions
Located on Spanish Parade, in the heart of Galway City.
Contact
Telephone: +353 (0)91 564 819
Fax: +353 (0)91 564 818
Website: http://www.eastern-tandoori-galway.com
Description
On a recent cross-country sojourn, we stopped for dinner at the Eastern Tandoori Restaurant in Galway and we were certainly glad that we did. An evening spent enjoying really good Indian food is amongst my very favourite things to do, and I'm pleased to report that this was exactly how I felt about my visit to this longstanding restaurant. Established on Spanish Parade, in the heart of Galway City, Eastern Tandoori has spent the best part of the last twenty years providing its customers with delicious authentic cuisine, prepared with 100% Halal meat products, sourced from local Irish farms and flavoured with a selection of spices from all across India.
From the moment we walked through the doors of the Eastern Tandoori we knew we were onto a winner, as we were warmly welcomed and shown to our table by our charming Maitre'd. The restaurant itself is spacious and comfortable, with just enough Eastern décor, by way of light fixtures and ornaments, to set the right atmosphere, without it being smothered by its own motif. I think the red hue from the lights along with the more regal blue scattered about the room really worked well.
On my visit, starters included calamari crusted with semolina and served with a homemade tomato chutney, star anise flavoured duck rolls with figs and tamarind chutney, as well as nimbu jhinga, which were pan seared jumbo prawns seasoned with fresh turmeric, Kashmiri round chillies, ginger, dry fenugreek leaves, lemon leaf and garlic. I thought about the prawns, but in the end I decided to try their trio of chicken, each of which was prepared with a different marinade. One was cream cheese and lemon zest, another mustard and ginger, but I think my favorite had to have been the red chillies, garlic and yoghurt marinade, which was simply mouth watering. Brendan, on the other hand, decided to try their 'Eastern Delight' which was an assortment of tandoori chicken, lamb kebab, chicken tikka and shish kebab served as a sizzling dish with sautéed onions. He was delighted and rather impressed with the wonderful palate of flavours he was presented with.
For the mains, there was a lot to choose from between their sizzling tandoori menu, which was full of gorgeous sounding selections like tandoori seabass or lamb Boti kebab, and their Biryani specials which had a great sounding prawn biryani prepared with saffron, mild spices, nuts and served with raita and basmati rice. Not forgetting, of course, that they have a varied and attractive vegetarian menu as well. I decided, however, to order from their Chef's recommended dishes, which included a Kazana served with onion, pepper, almonds, coconut and a spicy sauce along with a choice of chicken or lamb. There was also a chicken Patala with garlic, tomato and mixed herbs in a spice cream sauce, along with an off the bone tandoori butter chicken. I however chose the jumbo prawn tandoori masala, spiced and cooked in a clay oven. It was absolutely fantastic, bursting with rich flavours and quite obviously had been cooked to perfection. Himself went instead for the Murgi Massalam, which was off the bone spring chicken with minced lamb, egg and tomato cooked with a thick creamy sauce and just a dash of red wine. He was more than pleased with what was put in front of him.
As we got ready to head for the door, I knew at some point we would be returning here to dine again. With restaurants opening and closing all over the country in the blink of an eye these days, there's a reason why the Eastern Tandoori is headed for twenty years of delighted customers.