La Bella Donna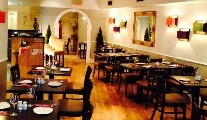 Proprietor
Nabil Maziri & Anne Cannon
Address
Directions
Prominently located on Bridge Street just across the river.
Contact
Telephone: +353 (0)74 972 5790
Email: labelladonnarestaurant@gmail.com
Website: http://www.labelladonnarestaurant.com
Description
On a recent visit to Donegal, I discovered La Bella Donna, an Italian restaurant on Bridge Street in Donegal Town. The restaurant itself is beautifully decorated with a classical Roman look making you feel as though the Colosseum could be just outside the doors. Proprietors Anne and Nabil strive to provide all of their patrons with a warm welcome and an excellent dining experience.
On my visit, starters included bruschetta with fresh tomato, basil and garlic; cozze alla marinara being fresh mussels in a garlic and white wine sauce; as well as fritto misto which were lightly fried prawns and calamari rings served with a wedge of lemon. They had a baked polenta served with sausage and a wild mushroom ragu, not to mention a tasty sounding carpaccio di Bresaola, thin smoked fillet of beef served with rocket and shaved parmesan with a lemon and olive oil dressing. I decided to go for their Belpaese con Mostardi di Cremona, a deep fried cheese served with a mustard and fruit sauce, which was melt in the mouth delicious. Brendan opted for their lovely oven-baked scallops in a garlic and white wine sauce, which he said he would drive back to Donegal to enjoy again.
For the mains, La Bella Donna has a fantastic range of dishes to choose from. Their pasta menu features popular dishes like linguine carbonara; tossed penne with smoked salmon; ravioli parcels stuffed with ricotta cheese and spinach in a tomato and cream sauce; and also a tagliatelle dish with Italian Sausage, wild mushroom and a touch of cream. Their pizza menu is equally extensive with a wide variety, including their 'rustica' pizza with goats cheese, spinach, olives. Their quattro stagioni comes with ham, mushroom and salami whilst their frutti di mare features prawns, squid and mussels. For the dedicated carnivore they have a great selection of steaks and other meat dishes. All steaks at La Bella Donna are served with potatoes, garnish and great selection of sauces. Their sliced oven-baked breast of duck with apples and Prosecco sounded delicious, as did a deep fried breaded chicken breast topped with mozzarella and pomodoro sauce, served with linguine. In the end, I landed on their lamb cutlet wrapped in Parma ham, sage and cheese and, lamb always being a favorite of mine, was pleased to discover just how well it had been prepared. My other half went straight for the sirloin steak, which came with potatoes, and his selection of a cream and Gorgonzola sauce. The plate was soon spotless.
We thought we were full until the dessert menu arrived, tempting us with selections like tiramisu with mascarpone cheese, warm chocolate cake with fresh cream; and panna cotta with strawberries. Himself chose a lemony tart adorned with juicy berries and an almond topping, which he enjoyed immensely, whilst I decided to try their 'semifredo' or 'half cold' which they describe as "not quite ice-cream" and I must admit that it wasn't half bad. Thoroughly sated, we made exit.