Conyngham Arms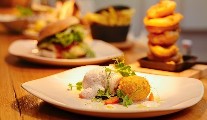 Proprietor
Address
Directions
Situated Prominantly on the Main Street in Slane, Co. Meath
Contact
Telephone: +353 (0)41 988 4444
Email: info@conynghamarms.ie
Website: http://www.conynghamarms.ie
Description
Right in the heart of the historic village of Slane, Co. Meath you will find the Conyngham Arms Hotel, a magnificently restored 18th Century coaching inn, which today is home not only to a fabulous getaway destination but also to an equally impressive restaurant. The Conyngham Arms is the 'baby sister' of the magnificent nearby Tankardstown House and as such is superbly decorated in a very tasteful classic chic French style with subtle colours and exquisite furnishings.

There is a vast emphasis at the Conyngham Arms on local and season produce. Indeed all of the vegetables come from the 4 acre walled gardens at Tankardstown House – you couldn't get more local and seasonal than that. When I was there, the whole menu sounded delicious. Starters included crispy Bravas potatoes with chorizo and garlic aioli, spiced buttermilk chicken wings served with their own homemade hot bbq sauce and also a glazed crispy pork salad with crispy pancetta, baby gem and a honey & whole grain mustard dressing. I loved the sound of their fresh Annagassan smoked cod and coriander fish cake with lemon aioli and tossed salad and happily I loved the taste too. My dining companion plumbed for the golden fried crispy Brie with spice red onion marmalade tossed leaves and a balsamic reduction. Cheesy heaven

For the mains there was a great selection of tasty sounding dishes, which included roast breast of corn fed chicken served with wilted kale, roasted rainbow carrots, roast shallot and garlic puree jus; their pan fried fillet of Atlantic salmon was being served with crushed baby potatoes and a caper, fennel and lime vierge whilst their spinach & ricotta cheese tortellini came with roast red bell pepper, tomato sauce, toasted pine nuts and Parmesan. For the devoted meat eaters they had a chargrilled 10oz sirloin steak garnished with green peppercorn sauce, grilled flat cap mushrooms, a house salad and skinny fries; as well as a chargrilled 8oz beef burger with Swiss cheese, tomato relish, salad, crispy onion rings and skinny fries. I went straight for the their mouth watering O'Hara's Ale battered fresh haddock which came with a garden pea salad, tartare sauce and skinny fries and I was simply delighted. My friend opted for the 8oz chargrilled succulent pork chop with creamed potatoes, wilted kale & roast Cox's apple jus. It arrived beautifully presented and appearing to be just as succulent as the menu had promised. This was confirmed moments later.

The first two courses had been so good that there was no hesitation when the waiter asked if we would like to see the dessert menu. "Yes please" we both chirped!
It offered treats like a meringue nest with fruit salad and cream; a sticky toffee pudding with toffee sauce served with vanilla ice cream; and also a mixed berry summer pudding. I couldn't resist the baked apple crumble tart with caramel ice cream served with sauce Anglaise. It was absolutely gorgeous. Across the table, my friend went for the baked New York blueberry cheesecake served with raspberry sorbet, which (between mouthfuls) was declared a triumph.

The Conyngham Arms is a very special place indeed.