Temptations Restaurant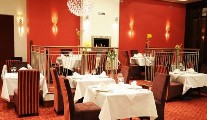 Proprietor
Proprietor Joe O'Malley / General Manager - Noel McCoy
Address
Directions
Situated prominently on Mill Street in Westports Town Centre.
Contact
Telephone: +353 (0)98 29200
Email: info@milltimeshotel.ie
Website: http://www.milltimeshotel.ie
Description
The town of Westport is famous as a busy, buzzing tourist community that draws in vistors from around the world for its beautiful scenery, historical sites and its thriving hotel and restaurant scene. Part of being away on holiday or a break is to enjoy good food and local produce.

One such example of this is Temptations Restaurant which is situated in The Mill Times Hotel, prominently located in the middle of Westport Town. Beautifully decorated in reds and white with a very classical sort of feel, the restaurant itself is very inviting with its striking attractive lighting

On my visit to Temptations, starters included turf smoked scallops with pickled & grapefruit salad; buffalo mozzarella which was baked with plum tomato, filo pastry and a balsamic reduction; as well as Kate McCormack's Pate with spiced cranberry jelly, toasted banana bread and pecan crumb. The pate sounded too good to pass up and when it arrived it was delicious. Himself went for a half dozen oysters served with an inventive pomegranate and coriander vinaigrette, which he thoroughly enjoyed.

Mains included monkfish marinated in olive oil and served with asparagus spears, radish and crispy caper beurre blanc; a half roast honey duck with caramelised parsnips and a clementine jus. Clare Island Salmon was with parsley & chive, samphire and a mussel & clam chowder whilst, for the carnivores, they had a delicious sounding 10oz sirloin steak with red onion marmalade, tomatoes, grilled flat cap mushrooms and a choice of garlic butter or peppercorn sauce. I was drawn to the seared loin of red deer, which came with a Guinness stew, apple and braised red cabbage and was simply mouth watering. One of the tastiest dishes I've tried in a long while. Himself opted for the chicken breast wrapped in puff pastry, wild mushroom stuffing, sauteed spinach and a mustard & thyme sauce. Across the table it looked wonderful and a bite or two later, himself confirmed my suspicions.

Succumbing to the temptations of Temptations, we eagerly accepted the dessert menu, which offered gorgeous treats of lemon & ginger parfait with lemon sherbet or a rosemary & rose infused brulee. I chose the aptly named delice which was a (72% chocolate) almond cake – I adore almonds - with gorse flower ice-cream. Brendan went for a traditional South African pudding with crème Anglaise and vanilla ice-cream and he had a big smile on his face.

Make your way to the Mill Times for some real Temptations.