Farmgate Restaurant & Country Store: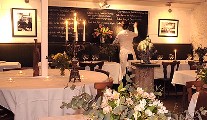 Proprietor
Address
Contact
Telephone: 021 4632771
Email: farmgate@ireland.com
Website: http://www.farmgate.ie
Description
We all know the expression "out of little acorns mighty oak trees grow" – and the same could be said about one of Cork's most successful restaurant pairings, the Farmgate Restaurant in Midleton and the Farmgate Café at the English Market in Cork. In 1985, Marog O'Brien spotted a none too glamorous premises on the side of a street in Midleton which had previously sold tyres. However with considerable imagination and style Marog transformed her restaurant into one of the best and most fashionable in East Cork. Marog's daughter Sally is now involved in the business. We piled in recently through lavish stands laden with everything from chutneys to chocolate, cheese to cucumbers and oh, those wonderful aromas. The atmosphere is brilliant and many restaurateurs would kill for it. Marog just has an innate arty sensibility in displaying modern paintings which hang liberally around the walls, interspersed with fine pieces of sculpture, massive flowrs, and quirky touches. The menu has something for everyone. East Cork is excellent for seafood with the nearby Ballycotton Harbour. Fresh crab toes were served piping-hot in a gratin dish with wafting aromas of garlic and chilli. Honey-glazed figs were soft and sensual with a goat's cheese salad, whilst sauteed lambs' kidneys were perfectly cooked in a rich mustard sauce and served with crispy bread for mopping up. Main courses run from €18 up to €30 for the more expensive fish. The Farmgate duck is a classic which the regulars adore. Marog is a founder member of Midleton Market and both the duck, what I call old fashioned delicious duck, and the chicken served at Farmgate are free range and simply roasted with either thyme and onion or sage and onion stuffing, the duck coming also with a classic apple sauce. Two of us had the black sole on the bone: fine chunky specimens, perfectly cooked and oozing lots of butter and Brendan had the gorgeous succulent duck which never disappoints, falling off the bone, he made fast work of it. Mains were accompanied by big bowls of floury potatoes and sauteed potatoes as well as pureed carrots and a selection of greens. Lunch is also available and this is a place to see and be seen – particularly on Fridays and Saturdays – so book early. There is something very heart-warming about the the food at Farmgate. Here's to another 25 years of Farmgate.