The Kitchen Restaurant @ The Glasshouse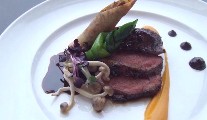 Proprietor
Mario Puchowski - General Manager
Address
Directions
From: East, West and South Take N4 to Sligo Town. Continue on through the roundabout. On entering relief road take the second right turn, directing you to Sligo Town. This will lead you onto Lord Edward Street, continue along onto Wine Street. The Glasshouse is on your left on Hyde Bridge. From North: Take N15 to Sligo Town. After crossing Hyde Bridge continue straight up N4 road. Take the second turn left directing you to Sligo Town. The Glasshouse is on your left on Hyde Bridge.
Contact
Telephone: 00353 (0)71 9194300
Email: info@heglasshouse.ie
Website: http://www.theglasshouse.ie
Description
Since first opening, The Glasshouse Hotel has settled in to being the most popular venue in Sligo for locals and visitors alike to meet and dine – or indeed wine – and celebrate special occasions.
Located at Swan Point in Sligo, their award winning Kitchen Restaurant presents it's patrons with a variety of wonderful and unusual combinations to entice even the pickiest of diners. The exterior of the hotel, which is designed to look like a spectacular modern ship anchored at the waters edge, lends wonderful views over the Garavogue river on the port side and a fabulous view of the city to the starboard.
The restaurant shines brightly with rich shades of crimson and gold flowing across the room and polished hardwood floors underfoot. The Kitchen's style gives out a very cool retro chic effect, from furniture to furnishings, in keeping with the hotel's modern classic look.
The innovative and creative menu at the kitchen has brought it to the attention of the culinary world and earned it accolades such as an AA Rosette. The menu varies seasonaly offering the best of local produce. Starters might include, local duck liver parfait which is paired with a crumbed cured duck egg, plum and brioche crumb. Home cured organic salmon beetroot gravlax comes with lemon aioli and samphire salad, whilst tossed salad of Fivemiletown goats cheese with Arugula, red chard, pear and roast walnut. I particularly loved the Donegal crab meat meat paired with a zingy pickled pineapple, pea puree, rocket and a spiced mango dressing.
On our visit, mains included a char-grilled 12oz sirloin of Irish beef accompanied by onion rings, champ potato and a peppercorn sauce, A slow cooked rump of Sligo lamb, with smoked lamb rack, is served with wild garlic mash, radish carrot and asparagus. But, if you're like me, you'll go wild for the delicious pan fried seabass fillets served with pickled carrot, fennel shavings, spiced butternut squash and a lentil dressing. Also on offer are dishes to suit the herbivors amongst you such as a vegetarian haggis with a texture of red pepper which comes with a micro salad and scallion dressing.
If you have a sweet tooth, the desert menu at The Kitchen will be difficult to ignore. Their hazelnut and toffee parfait served with dry cider crème fraiche, a nut cluster, apple and a toffee sauce is to die for, whilst the rich Belgian dark choclate delise with a white choclate crunch, strawberry salad and raspberry milkshake might even be worth killing for.
For a superior standard in modern and inventive cuisine in a fabulous location, set sail at once for The Kitchen at The Glasshouse!