Yew Tree Restaurant @ Muckross Park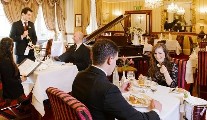 Proprietor
Sean O'Driscoll, General Manager
Address
Directions
How to get there: Take the Muckross Road to the National Park. Past Muckross Village on the left hand side. Adjacent to Muckross House & Gardens.
Contact
Telephone: +353 (0)64 662 3400
Email: info@muckrosspark.com
Website: http://www.muckrosspark.com
Description
We were en route to the Dingle Food & Wine Festival and jogging along on the "toytown" train connecting Mallow to Tralee. A young fellow traveller, in a red football jersey, who kept nodding off on Brendan's shoulder, managed to open his eyes long enough to tell us that the train stopped at Killarney first before reaching Tralee. We decided to jump train and spend the night in Killarney. We headed to the Muckross Park Hotel who provided the added bonus of sending the concierge and courtesy coach to whisk us there, effortlessly and painlessly. "Teddie", the concierge, settled us in like a mother making sure we had everything we wanted.
We came down for a pre-dinner drink in the Monks Bar which has a very cool clubby Havana feel – wood panelled walls, blazing fire, deep leather sofas – dark, relaxing and intimate. We were brought some delicious little canapies with our cocktails which got us into the relaxed mode.
There are two dining options at the Muckross Park – The Yew Tree Restaurant and The Jarvey's Rest Bar, which is full of character in the original old part of the building, where we have eaten on many an occasion and which does excellent casual food. They do great every popular dishes such as salads and light meals including Clonakilty Black pudding and warm bacon salad as well as Caesar or Nicoise salads. They also do great posh fish n chips with Pommes Pont Neuf and mushy peas as well as lovely homemade burgers with all the trimmings, not to mention a great Irish Stew. They also now do a Madras chicken curry and Asian Thai prawns.
Dinner in the Yew Tree was excellent. Starters included Atlantic Chowder which was a tomato & chorizo sausage based chowder with prawns, mussels and crab claws, whilst Dingle Bay Prawns were cooked in a lemon and garlic cream with spring onion served on a leek fondue accompanied with lightly brushed garlic and olive oil griddled bread. Gratinated Cromane mussels are out of their shells on plum tomato in lemon and garlic butter whilst a ballontine of rabbit saddle and Annascaul bacon with anti-pasta vegetables and buttered green cabbage was garnished with butternut squash and raisin marmalade. Brendan opted for the most delicious ballotine of duck confit and foie gras, which was layered with beetroot and hazelnuts, and drizzled with a Balsamic glaze. I had a beautifully tender and treacly sweet flavoured panfried spatchcock of quail which was on a butternut squash puree with thyme jus.
Mains included rack of lamb with sauteed artichoke and red pepper served with apricot polenta and a red port and thye jus; roast loin of venison with a pecan and honey crust is served on a vanilla scented sweet potato puree whilst pan seared sea bass is set on a creamed dill potato with wilted spinach and Boulibaisse. Fillet of Irish beef served with a mushroom duxelle, glazed shallot and tomato and thyme jus was also perfectly executed and deliciously deep, dark and intense. They do great steaks including a 10 oz ribeye or sirloin, a 16oz T-bone, the 8oz fillet and a great surf n turn which has half a Valentia lobster with a chargrilled 60z fillet served with dill butter sauce.
We had two courses but we could have followed with an assiete of chocolate; iced basil parfait, strawberry carpaccio, sweet pesto; a gratin of fruits with a lime sorbet….Wines prices were accessible and we enjoyed a bottle of Raia Gavi 2007.